Airtel PUK Code– Hello NAYAG Readers, We hope you are doing well. You are enjoying our work in field of Telecom. Today we are back with another article in which you will know how to get Airtel PUK Code. Lets start…
If your Airtel sim card has been blocked. Then, you want to get the information regarding Airtel PUK Unblock and Airtel Sim Card. When you entered wrong password upto 3 times. Then your sim PUK will locked. If you done it by fault. Don't worry in this article will help you to get your PUK Back and Unblock Airtel Sim Card.
Before knowing about Airtel PUK number, what is the exact meaning of PUK. PUK stand for Personal Unlocking Key. And it is activated by 3 times unsuccessful password trials.
Once, you will be activated pin feature on your sim card. Whenever, you unlock your device. Then, it will require PUK code password. By the way, Airtel company also gave a default pin or PUK number with Airtel connection.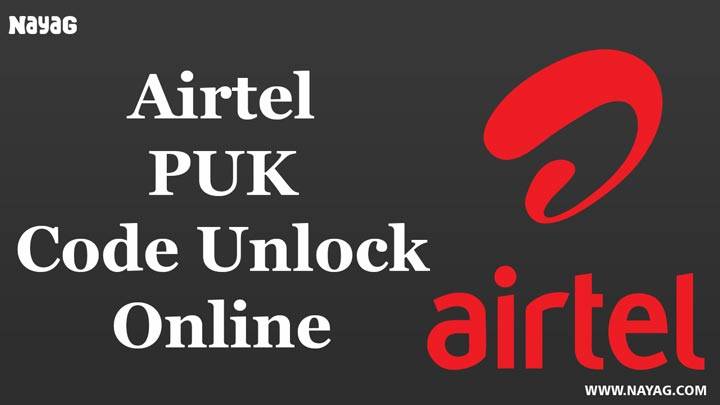 Airtel PUK Code Overview :-
| | |
| --- | --- |
| Topic | Airtel PUK Code |
| Company | Airtel |
| Source | Official |
| Provider | NAYAG Team |
| Status | Working |
What is PUK Code of Airtel ?
Airtel PUK means personal unlocking key is a security measure. That protect your phone from unauthorized used. But, whenever you enters three time consequently wrong code. So, your Airtel sim will locked.
Airtel PUK number helps you to unlock your Airtel sim card. In addition, whenever you go to buy a new sim card along with you gets a default PUK code or pin. Here we will explain, how to use default PUK code to unlock sim?
Airtel PUK Code Unlock 2023 Online
To get unlock PUK number online, first of all, you have to download Airtel Thanks app. Moreover, where you have to ask for PUK code and verify it. Then, shortly you will receive a message including 8 digits number.
This 8 digits Airtel password code will be enter on your phone. So, here is how. you can solve your problem online.
Airtel Sim PUK Code
If you have entered three times wrong passwords mistakenly or intentionally. Then, your sim card will get blocked. But, don't worry, you may get the relevant Airtel PUK number to unlock your device.
Via Airtel Customer Care
You can get Airtel PUK code with the help of Airtel customer care.
Dial 121 Airtel care number from another Airtel number
Follow IVR machine's instructions and choose PUK option
And provide them Airtel PUK blocked number
Provide them right information
They will provide you PUK code instantly.
Save the code and enter to unlock sim.
How to Get PUK Code for Airtel Using USSSD Code ?
If your Airtel sim is PUK blocked. Then, you can use this method to unlock blocked sim number without going to near by Airtel store. Simply get someone's mobile phone and send the message *121*51# from any Airtel number.
And then press OK on popup screen and select PUK option that is mentioned on your screen. In addition, choose an option yourself or other. After that, you have to enter DOB of Airtel number's customer and finally get PUK number.
8 Digit PUK Code For Airtel
Get the PUK code that is printed on the backward of the sim plastic body. Enter your blocked phone number and send it to 785 via SMS. After that, type text PUK><Space>15-digit SIM number and send it to 121. Airtel will send you an 8-digits number instantly, this will be your PUK number
PUK Blocked Airtel
To get code with easiest way. You have to call on 121 or 198 Airtel customer care number. Moreover, you should stay on call to call with Airtel representative. And then, you should ask about PUK code with providing them information.
Get the password code of Airtel number. This is the easiest way of getting PUK blocked number without going anywhere.
Frequently Asked Questions (FAQs)
Q. What is Airtel PUK code?
Ans. PUK code is just like a password to unlock sim's lock.
Q.2 How to get PUK code?
Ans. You can get PUK get by nearby Airtel store.
Q.3 How to get Airtel PUK code online?
Ans. You may get Airtel personal unlocking key via Airtel Thanks app
Q.4 How to get Airtel PUK blocked number?
Ans. By USSD code *121*51#
Conclusions : –
We have provided you the information regarding Airtel number code. If your Airtel number is PUK blocked by you or your family members. Then, you need this information, We hope that you have liked our article and you will also share with your family or friends.
We hope you have enjoyed our work, if you liked it Please help us reach more people like You. Share this article with your Friends using below buttons. Sharing is Caring 💗