We as a Internet user always wants to know how to check airtel data balance check, isn't it? You will know how to check airtel daily data balance. If you are an airtel customer, there are three ways to check your net balance. Here we discuss all those three ways.
1. If you use android, download myAirtel App to check the data usage, offers and plans in detail.
2. Visit airtel self-care service online and check the 3G/4G data usage.
3. You can use data balance check code to find out the net balance.
The brand allows its users to check balance without any hassle. So, if you are confused about how to check Airtel balance, data, validity and various other services, there are multiple ways to go about it. The simplest way to do so is by using net balance check number, which is technically known as Airtel USSD codes.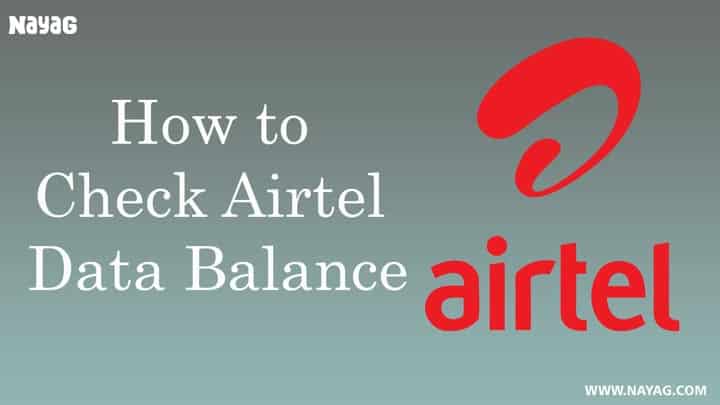 Also Read:
Methods to Check Airtel Data Balance
Airtel data balance check Online via MyAirtel App
Download Airtel App
Signup and login with your airtel mobile number.
You will see the airtel main balance, data balance and data validity displayed on the app dashboard.
Airtel data balance check Online via Airtel self-care service
Airtel self-care service is similar to Airtel App.
Visit the page Airtel Self-care help
Enter your mobile number and login using OTP (One Time Password) sent to your mobile number.
On the self-care service dashboard, you will find the airtel main balance and data balance.
Also Read:
Airtel data balance check via USSD Code
Use the USSD codes given below to check the data balance and main balance.
Dial *123# for checking the calling balance and validity of your Airtel mobile number
Dial *121# and enter 5 for checking Airtel 3G/4g net balance using airtel codes.
For checking airtel data balance, you can use any of the above mentioned ways.
Make use of the following airtel USSD codes to know about net balance main balance and other airtel services.
Airtel Own Mobile Number Check Code *121*1# or *121*9# or *121*2#
Airtel Main Balance Check Code *121*2#
Also Read:
How to Check Airtel Recharge Plan and Validity
Customers can also check Airtel recharge plans and validity using the application and USSD codes. If you want to know, how to check airtel daily data balance. You can follow the mentioned step by step guide. To start with the app, one can go to the home screen of the app and click on the main balance. There you can see which Airtel recharge plan you are currently using along with its validity. It will also show your daily data balance left.
Coming to the USSD codes, one can dial *123# to check for the validity of your Airtel mobile number. Alternatively, you can use *121*2# to know the detail about your recharge plan and validity.
How to check Airtel 4G Dongle Data Balance?
Users can easily check the Airtel 4G dongle balance by following these simple steps:
Switch on your Airtel dongle and connect it to your laptop.
Open the browser and type 192.168.0.1. This is the IP address of the Wi-Fi dongle.
Press Enter and you will enter the login screen. The default password is 'admin'. Enter and click on login.
You will now see the UI of the Airtel 4G dongle. Go to the Information section and click on data usage. Here you will see your remaining balance, validity and pack name.
How Do I Check Airtel 4G Data Speed?
You can easily check the internet speed of your Airtel number by downloading the internet speed test app on your smartphone. One can use different apps like Ookla Speedtest, and more to test the download and upload speed of the Airtel network.
We hope you have enjoyed our work, if you liked it Please help us reach more people like You. Share this article with your Friends using below buttons. Sharing is Caring 💗