Airtel DND: Want to Activate DND in Your Airtel number. You have a smartphone in which you receives spam or fraud messages by fake companies. To opt-out fake or fraud messages Airtel allows customer to use Do Not Disturb Airtel service. So, you don't worry here we are to help completely.
So, to opt-out promotional or fake messages and to get rid of spam calls. You can use Airtel Do Not Disturb service. So, DND services are very helpful to being not disturb or enjoy Airtel's services.
Do Not Disturb service allows Airtel customers to get rid of receiving promotional, spam calls or SMS (VAS promos, Bulk SMS, etc.). Now a days fraud companies scam news often we read in the newspaper and online.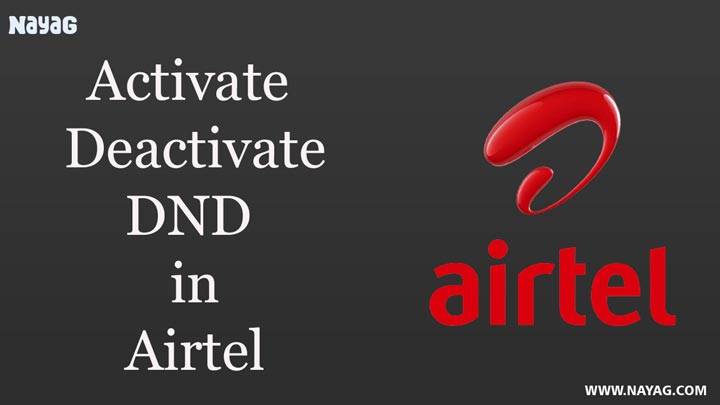 Airtel Do Not Disturb Overview:-
| | |
| --- | --- |
| Topic | Airtel DND |
| Company | Airtel |
| Source | Official |
| Provider | NAYAG Team |
| Status | Working |
DND Airtel :-
DND(Do Not Disturb) service allows Airtel Customers to relinquish of receiving unwanted spam or fraud messages such as ( VAT message, Bulk message, promotional spam messages etc.)
If really want to fully block this all types messages. Then you have to follow upcoming steps in this article to opt-out receiving spam messages. In addition, to block partial messages. Then, Airtel Do Not Disturb service provider give you a option to choose specific messages that one you want to receive.
How to Activate DND in Airtel
Obviously Everyone want to get rid of getting spam fraud types messages over and over. If you have a smartphone. Then, seldom you can be faced fraud or unwanted SMS. So, How to stop getting bulk SMS or how to activate DND service in Airtel.
Airtel Do Not Disturb Activation:-
Here is how you can register your prepaid or postpaid mobile number as a DND number. So, that will give you a significantly better mobile phone experience.
Follow the following steps
First of all you have to go Airtel Do Not Disturb website
When you scroll down see the option "Click here"
Give your 10 digits Airtel mobile number and get the OTP.
After a while you will get a OTP number. So, fill the correct OTP.
Here you will get a new screen to stop all.
Airtel Do Not Disturb SMS :-
You can also register your Airtel mobile number through the message. Even though now a days spam calls may be potentially harmful surrounding our nature. So, it can be dangerous one can steal your private information such as ( Bank account details, your identity money etc.)
Therefore, it is important to keep your phone number away from these spam calls, while you are doing your best with Airtel services and suddenly you are getting fraud messages daily. So it will distract you from your goal. Then, you should register Airtel number into Do Not Disturb.
So, getting DND on your mobile number via sending an SMS or making a call, you can avail the following steps-
Open your SMS sender.
And type START O' to send 1909
That will enable DND on your Airtel number.
You can also call to enable DND on Airtel mobile number by calling Airtel customer care representative. So, call on 1909 and follow the instructions that IVR machine automatic tell you.
Airtel DND Activation Code
To Activate Do Not Disturb in Airtel use code 2442 to know more.
To get full DND text on SMS STOP and send via 2442
To receive all messages send on 2442 by texting ALLOW
To check status of DND text STATUS on 2442
Airtel DND Activation Online
Airtel DND activation online, For activation online you have to visit Airtel Do Not Disturb official website. There you will get some instructions online such as Airtel mobile number and you may be asked for OTP. So, follow these steps to activate DND services.
Airtel DND Complaint :-
For complaint to Airtel Do Not Disturb customer care. In addition, to lodge a complain and enquire about Do Not Disturb services activate or deactivate. It allows you to block partial messages or full block to Call Airtel DND service provider on 1909.
Here we have provided an Airtel DND number 1909. So, call with this number and ask customer care representative gave him information regarding Do Not Disturb.
Deactivate DND Airtel:-
To opt out of the service of DND which you have allowed . So, if you want deactivate DND Airtel. Text to ALLOW" to the short code 2442. Once this is done you will now receive all promotional messages. It is free to Airtel customer.
Stop DND Airtel:-
There are many person who have faced promotional messages and annoyed by same call of any fraud company. Then, they asks you to send them your bank account number and other information.
After a long time, If you want to stop or deactivate Do Not Disturb services of Airtel, So call on the 1909 or message by 2442 to stop your services.
Frequently Asked Questions (FAQs)
Q.1 What is DND?
Ans. Do-Not-Disturb service
Q.2 Can I get rid of Spam calls?
Ans. Yes, Use Airtel Do Not Disturb service.
Q.3 How to Activate Airtel Do Not Disturb service?
Ans. Call 1909
Conclusion :-
Here we have provided information regarding DND Airtel service. In addition to how to activate or deactivate Airtel Do Not Disturb services. So, using Do Not Disturb service you can opt-out of spam or fake messages and also not getting in the trouble. So, here we mentioned the solution of your problem.
We hope you have enjoyed our work, if you liked it Please help us reach more people like You. Share this article with your Friends using below buttons. Sharing is Caring 💗