Today in this article, we will describe How to Port Airtel to Jio : Message, Number, Online. In addition, if you want to move your Airtel number in Jio. So, you need to have Aadhar card age above 18 and UPC code of Airtel's number.
UPC ( Unique Porting Code ) is a porting code. Which is offered by all telecom company to switch one telecom to another without changing your number. So, you can move into Jio from Airtel without changing your Airtel number.
MNP stands for Mobile Number Portability service is often very useful for telecom customers. Because, you are finding some problems regarding network, area issues and unable to access speed. So you can move as your choice.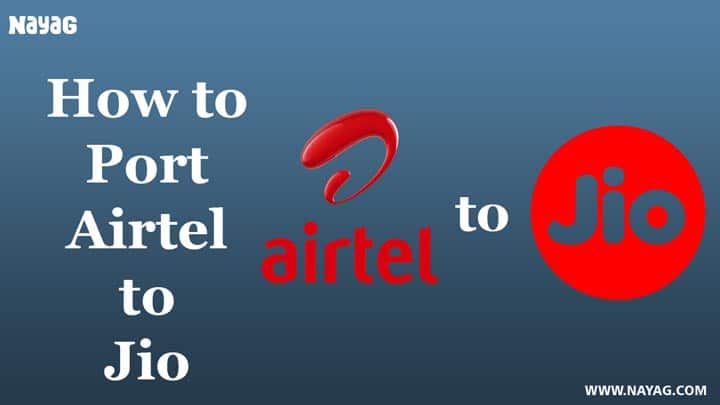 Port Airtel to Jio Overview :-
| | |
| --- | --- |
| Topic | How to Port Airtel to Jio |
| Company | Airtel,Jio |
| Source | Official |
| Provider | NAYAG Team |
| Status | Working |
How to Port Airtel to Jio
First of all, you need to generate UPC code from Airtel number for Airtel to Jio port. You can generate your Airtel's UPC code by sending message on 1900 and typing PORT <space> mobile number of Airtel.
When, you complete the process of sending message for UPC code. After that, you will get a message from 1901 including UPC code. then, you have to go to Jio store of Jio retailer who provides Jio services.
Airtel to Jio Port Number
Here, we will provide the details of MNP service to switch your Airtel number into Jio without changing your Airtel number. Basically, your Airtel number should be used 90 days at least as per getting connection.
And your Airtel number should not be processing of porting to other telecom operators. Now, if you are eligible to follow the criteria of Airtel to Jio. Walk in to nearest Jio store.
Airtel to Jio Port Offer 2023 Today
Jio company provides us best 4G high speed data and HD calling and other services. But you port your old one number into Jio. So, you will get MNP offers such as internet, calling service and Amazon prime subscription etc.
When, you have decided to MNP your Airtel number to Jio. So, you will get MNP offer including (1.5GB data/day, unlimited call and 100sms/day for 28 days). So, this benefits you will get on porting.
How to Send Port Message From Airtel
Follow these steps to send port message for airtel
How to Get Port Code in Airtel
First of all you need to open message sender.
Send the message on 1900 texting PORT space 10 digit mobile number
After this, you will get a message through 1901
Where you will get UPC code of Airtel number
Now, you can use this code for MNP
Port msg For Airtel
The beginning process of porting your existing mobile number for Airtel prepaid or postpaid, Simply send an SMS from your existing number by stating PORT to 1900. Then, You will receive your Unique Porting Code (UPC) as a reply from 1901.
How to Port Airtel to Jio Online
Airtel port number to Jio: Port your Airtel current number to Jio from the comfort at your home. So, raise a request for mobile number portability through the message, and with that you will receive a porting code. That calls you UPC code.
Without stepping out, you will get a Jio porting sim at your doorsteps. So, you have to go to Jio official website and where you have to fill a form of porting with UPC code and address. Then, you will receive a Jio sim card by delivery boy.
Airtel Sim Port to Jio
Switching your prepaid connection from Airtel to Jio, Ensure that, your Airtel number's validity, sms and a ongoing pack should be remain on your Airtel sim for some time. Then, you will be able to change your Airtel number to Jio without any recharge expense.
Airtel to Jio Port Charges
Porting your number to Jio is absolutely free. There is no charge of home delivery and MNP service. Simply, you have to find near by you a Jio store or Jio mini store. And ask them for MNP service with your existing UPC code of Airtel.
How to Port Airtel to Jio Without Sending SMS
To port to Jio, Customer need to send an SMS on 1900. So, this is the beginning procedure to port. First send the message on 1900 and text PORT space Airtel mobile number. After a while, you will get a reply message from 1901 including portability code.
You may also raise a request for MNP using My Jio App. First of all, you must sign in/log in to my Jio app and where you will see pop-up message to port into Jio. Then, select the option and enter your detail and correct address to get a online Jio sim.
Frequently Asked Questions (FAQs)
Q.1 What is the beginning process of MNP?
Ans. Send the message on 1900 and get UPC code.
Q.2 How to get UPC code?
Ans. Send the message on 1900 and get the replied message with UPC code
Q.3 What is MNP service?
Ans. MNP (Mobile Number Portability) allows all the telecom customers to switch from one to another.
Conclusions :-
In this article, here we have gave you the complete information regarding Mobile Number Portability. In addition, Using this MNP service users can move from one telecom to another telecom company as per your choice. So, we hope that you have like our article as usual. So, please do share with your friends and family member.


We hope you have enjoyed our work, if you liked it Please help us reach more people like You. Share this article with your Friends using below buttons. Sharing is Caring 💗