Infinix Secret Codes: If you have a smartphone of Infinix brand which is growing day by day. And you are searching for secret codes, FRP Code, Display Screen Check, Sound Test & more. An Android smartphone has a number of secret features. So, here you will get Infinix secret codes that will enable hidden features on your Infinix smartphone. In addition, as you know that Infinix has became a brand in India along with its new launch smartphone.
Infinix company founded in 2013. It is Hong Kong based smart phone company. In addition, Infinix mobiles are manufactured in India, Pakistan, China, Korea and France etc.
Sometimes, you don't know Infinix's new phones secret codes. That all are hidden and interesting information such as you want to check Infinix phone's Model, Display, IMEI number and hardware or software information without any hassle.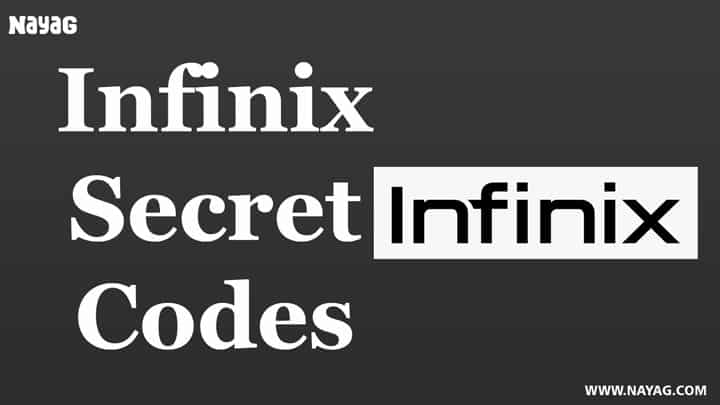 Smart phone Infinix Secret Codes Overview :-
| | |
| --- | --- |
| Topic | Infinix Secret Codes |
| Company | Infinix |
| Source | Official |
| Provider | NAYAG Team |
| Status | Working |
Infinix Secret Codes
If you want to check IMEI number on your phone along with dial code. So, dial on your Infinix phone this USSD code *#06#. And then, you will get IMEI number on your display without any hassle.
Besides it, here are another method to check your smartphone's IMEI number as well wifi mac address number both in a single method. So, first of all you have to go to your phone's setting and click on the About Phone > Status where you will get both IMEI and wifi mac address numbers.
Other USSD Secret Codes for Hardware Test
| | |
| --- | --- |
| *#*#1472365#*#* | Quick GPS Test |
| *#*#1575#*#* | A Different Type GPS Test |
| *#*#0*#*#* | Android Device LCD display test |
| *#*#0842#*#* | Vibration and Backlight test |
| *#*#2664#*#* | Android Device Touch-Screen test |
| *#*#0588#*#* | Proximity sensor test |
| *#*#7262626#*#* | Device Field test |
| *#*#232339#*#* | Device Wireless Lan Test |
Infinix FRP Code
Infinix FRP Bypass Code is *#812#. Factory Reset Protection is an inbuild Data Protection feature for all Android smartphones. When you register a Gmail on your android smartphone. Then FRP is enabled automatically in your android device. Besides, it will disable automatic when you remove Gmail account.
Infinix Display Check Code
If an Infinix user want to check display of Infinix devices. then, use this USSD code on your Infinix phone's dialer *#*#4636#*#* and get instantly display information on your screen. Hastily, use this method to know about Infinix screen test code.
Factory Reset Code for Infinix
You can reset your Infinix smartphone using this method. First of all, you have to go to phone's setting and access Reset and Backup option where click on reset option and choose erase all data Factory Reset.
Moreover, it will allow you to draw your pattern/password. And finally press erase all to reset your device. Now, it will start to reset after two minute mobile phone open along with no existing data. In additions. There is no Infinix phone reset code or USSD code.
Infinix Unlock Code
Whenever, you forget your phone's password and want to unlock your device. In addition, when you try 5 times wrong password. After 30 second you will receive prompt message to try again. Then, you will see at right side forget password, prompt. So, click on prompt.
Moreover, you will access on google automatic to fill Email Id address and password detail. In addition, Email ID should be registered on your device. Besides it, here is another method to unlock mobile. For this you have to reset your mobile. Simply pressing Volume down and off/on buttons.
Infinix Sound Test Code
Well, if you want to test your Infinix smartphone's audio sound. So, here is an USSD code *#*#0289#*#* dial on your phone and check the sound on your device. So, we hope that your are very glad to use this method.
Frequently Asked Questions (FAQs)
Q.1 How to check Android Device LCD display in Infinix?
Ans. To test android device LCD display use this code *#*#0*#*#*
Q.2 What to do the password has forgot in android phone?
Ans. If you have forget the password of your device. So, you should reset your handset.
Q.3 How to test QC in Infinix mobile?
Ans. To test QC use this code *#*#64663#*#*
Conclusion:-
Friends, we have described here Infinix smartphone's secret code. In addition, Infinix company's mobile phone have unique features and qualities. So, here are some methods which will work on all android smartphone. So, we hope that you have liked our article.
We hope you have enjoyed our work, if you liked it Please help us reach more people like You. Share this article with your Friends using below buttons. Sharing is Caring 💗