APN itself stands for access point name, So, if you are upset with Airtel 4G speed. You want to set Airtel APN Settings : 4G Access Point for Fast Internet, GPRS for fast Internet speed. Although, everyone needs fast internet connection for daily drivers.
You will find APN settings on your android and iOS phone. Moreover, APN is needed to establish the connection such as 2G, 3G, 4G or 5G and it works as gateway to the world of internet.
Airtel gives you APN settings service in your smartphone. In addition, when you set APN settings on your phone. It will enhance the network, internet speed and voice calling etc. Even, here is how you can set GPRS.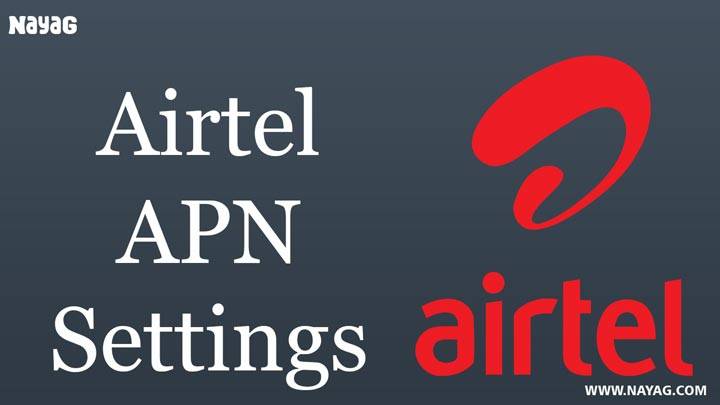 Airtel APN Settings Overview : –
| | |
| --- | --- |
| Topic | Airtel APN Settings |
| Company | Airtel |
| Source | Official |
| Provider | NAYAG Team |
| Status | Working |
Airtel APN Settings
If you are indeed eager to change the phone settings, here are the steps to get Airtel APN settings for fast internet. Besides it, to get Airtel APN settings. You have to go to your smartphone's setting and find APN in option. After that you must click on + sign to create APNs settings.
Unlock your smartphone and go to the settings page.
Now, click on mobile network section of the settings page.
You will see Access Point Names, (APNs) of the device.
In addition to the default APN settings, Here you will see + sign upwards
Click + to create your own APN setting.
We hope, you are creating your own APN setting.

Now, Save and you may be able to access 4G internet on your smartph

one.
Airtel Access Point Settings
Having access of internet on your smart phones, tablets or other data enabled devices. Besides it, Access Point Name is a requirement on the network for all users.
So, this is the way to get APN settings, get GPRS internet setting by sending an SMS "MO" to 54321. Please save these settings as default settings.
Airtel APN settings 4G
Try to use these steps to get Airtel APN settings.
Open your message sender
Type MO on text and send to 54321
After a while you will get a message., ,
So, this message is Airtel internet setting message save it as default.
And restart your phone.
you will get 4G internet speed.
Airtel GPRS Settings
APN (Access Point Name) is a name of gateway such as (GPRS and GSM, 2G, 3G and 4G or 5G). While GPRS tech has now became quite redundant. Although, it still works older smartphones.
Basically, check that your phone works on GPRS network
Open your old smartphone's setting and go to network setting
You will see on carrier section GSM option click on it.
your mobile data will work now GPRS network.
GPRS (General Packet Radio Service) is for cellular network communication services.
Airtel APN Settings For Fast Internet
If you really want fast 4G internet. Then, open your mobile setting and access APN option with Airtel network.
Unlock your smartphone and open mobile setting
Click on mobile network
Here tap on Access Point Name
And the right corner, you will see + sign tap on that.
Here you can make your own APN setting
Do save after creating APN
Best APN for Airtel– Airtellive.com is the best APN server to enter in APN to get fastest internet speed for Airtel. Moreover, Airtel net setting is often used by all its users for fast speed.
Airtel Configuration Settings
If Airtel user needs instant Airtel network settings through the message. Then, you have to send a message via 54321 and text MO. When you send message after a while you will receive a message. Where you will get Airtel configuration or Airtel APN setting. Click on OK to save apply setting.
Airtel Mobile Internet Settings
Basically, APN settings use for access high speed internet data. In addition, if you want to know internet setting then you should know to set Airtel APN settings for this follow above mentioned settings.
Besides it, go to Airtel setting and keep on your roaming and LTE 4G mode. So, you are able to set these settings then you may access best network or internet.
Frequently Asked Questions (FAQs)
Q.1 How to get Airtel network settings?
Ans. Send message 54321 text MO
Q.2 What is APN settings?
Ans. APN stand for Access Point Name for internet
Q.3 What is GPRS?
Ans. GPRS (General Packet Radio Service) is for cellular network communication services.
Conclusions :-
In this Article, we have described the information regarding Airtel APN settings. Whenever, you will find difficulties to access internet. Then, you can use Airtel APN setting on your device such as mobile, tablet, iPhone etc. So, do share and also do like this article.
We hope you have enjoyed our work, if you liked it Please help us reach more people like You. Share this article with your Friends using below buttons. Sharing is Caring 💗