Realme Secret FRP Code : If you are using a smartphone of Oppo or Realme. So, here we will provide you Realme secret code for your phone's hardware and diagnostic testing. In addition, the Realme secret codes will help you explore your smartphone and face some hidden features.
As you know Realme is a brand of Oppo it introduced in 2018. Probably, you know that Realme has launched its first phone Realme 1 in may 2018. In addition, in this article you will get deep information via USSD codes.
So, with the secret codes you can get easy and fast access of your Realme phone's hardware test and important information. Suppose that, you want to know about your device's software version. Then, you can use this *#1234# code.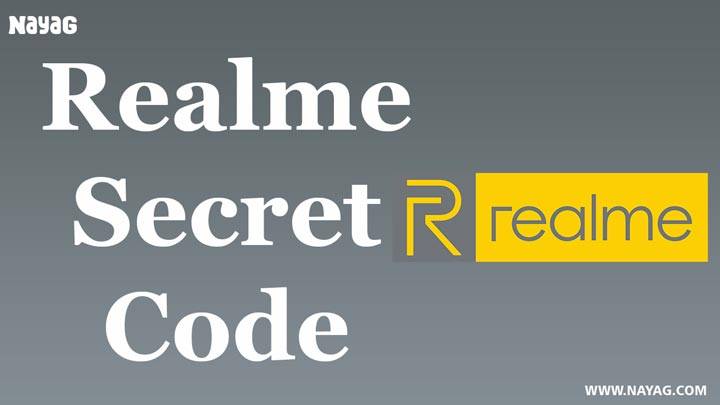 Oppo and Realme Secret Codes Overview : –
| | |
| --- | --- |
| Topic | Realme Secret Code |
| Company | Realme |
| Source | Official |
| Provider | NAYAG Team |
| Status | Working |
Realme FRP Code
Usually, Android smartphones have a feature called FRP (Factory Reset Protection). So, FRP feature provides a build-in security feature on your device. Along with this feature you will protect your phone information. So, This is FRP emergency USSD *#813# code. We have created special article on frp as well to know How to Bypass FRP?
Realme Secret Code
Basically, SAR code *#07# provides you absorption rate. This secret code is very necessary for you. Because it will tell you that your smartphones radiation are safe or harmful. So, immediately check your SAR value using code. The normal range or safe range is 1.5 W/Kg.
Realme Engineering Mode Code
So, this Realme secret code will work on each Realme model. This USSD code *#899# enable a engineering mode on your device. You can also open engineering mode by downloading app from playstore called "Shortcut Master" or You can Search for "Emergency mode" on Play Store. You can check Realme Model Version and also you can reset your device.
Realme Display Check Code
Well, this USSD code *#*#2663#*#* will help you to check display touch screen version. This code is for all realme mobile. First of all you have to dial this mentioned code on your phone. After a while you will get a screen where you will get information.
Realme Emergency Code
This Realme emergency code *#*#4636#*#* to get phone information and history data in your Realme phone. Now, open your smartphone and enter this code in to dialer and get the history and information of your Realme phone.
Realme Hard Reset code
There is no USSD code to hard reset your oppo mobile. But to reset your phone. You have to go to your mobile setting. Where you will find additional settings option click on that and find the option Backup and Reset and click on Factory reset.
You can also Hard Reset or factory reset your Realem Mobile using Android Recovery by pressing Power Button and Volume button together. This can be helpful if you are locked out of your device.
Realme Reset Code
Here is another way to reset your Realme or Oppo mobile. First of all, you have to press your mobile's volume down button and side power button both at same time. After you will see that your phone's software is being reset.
Realme Hardware Test Code
So, use these codes on your Realme phone which all we have mentioned here. you can test your hardware information. Moreover, use these all codes on your Realme and oppo phone.
| | |
| --- | --- |
| Hardware Test | Codes |
| Quick GPS Test | *#*#1472365#*#* |
| Other GPS Test | *#*#1575#*#* |
| Device LCD Display Test | *#*#0*#*#* |
| Vibration And Backlight Test | *#*#0842#*#* |
| Sensor Test | *#*#0588#*#* |
Realme Check Code
This USSD *#*#4636#*#* code is very important for you to check Android Version. You can check Battery Usage statistics in your Realme or Oppo mobile phone. So, this code is for all Realme users to check these information.
Realme 2 Unlock Code
There is no code to unlock Realme 2 mobile phone. But there is a method to unlock realme 2 mobile phone. In additions, you can reset your mobile without unlock your phone. For this you have to press volume down button and power button at the same time.
After this you will see the Realme logo on your phone. Then, you have to release buttons. Now, you are phone will be unlock.
Then you can try FRP codes or methods to bypass FRP. If you know google account logged in previously. Then, just login to unlock the mobile.
Frequently Asked Questions (FAQs)
Q.1 How to Check IMEI number ?
Ans. You can check IMEI number using this code "*#06#"
Q.2 Who is Realme owner company?
Ans. Realme is owned by Chinese Smartphone Manufacturing company BBK electronics.
Q.3 How to activate engineering mode in Realme?
Ans. To activate Engineering mode in Realme dial *#899# code
Conclusions :-
Friends, we have mentioned here Realme and oppo mobile phones some useful secret codes. that all will help you to get the complete knowledge of your phone's software and hardware. In addition, use these code on your phone and we hope that you have liked our article.


We hope you have enjoyed our work, if you liked it Please help us reach more people like You. Share this article with your Friends using below buttons. Sharing is Caring 💗