How To Sign up PhonePe Account in November 2023, PhonePe Create New Account Steps. You can do Phonepe download and phonepe register for phonepe account. Phonepe is the subsidiary flipkart. We will let you know how to use phonepe using Phonepe wallet app. Guide you for the phonepe registration.
What is Phonepe wallet ?
PhonePe is a Fin-Tech company headquartered in Bangalore, India. Founded in December 2015, it provides online payment system based on Unified Payments Interface (UPI), which is a new process in electronic funds transfer launched by National Payments Corporation of India (NPCI).
Friends we are here for Your help if you face any type of problem regarding Recharge or any other type please comment below. Read Terms And Conditions before making payment carefully. We provide Free Recharge Tricks, Offers and Discount Deals any many more For you. For Other offer visit Home Page. So, Get benefits and Enjoy.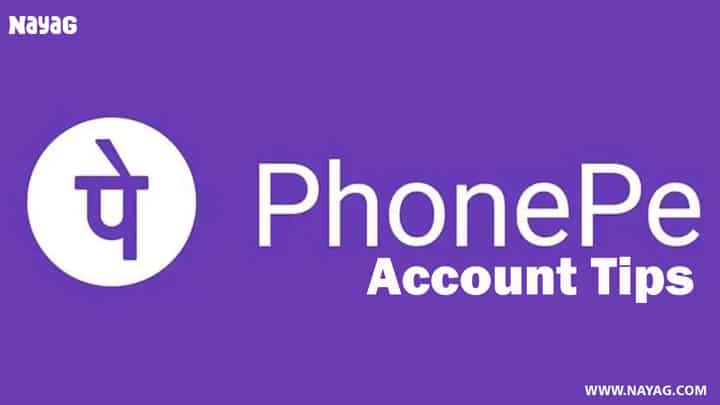 How to Add Bank Account in Phonepe using Debit Card?
Bank account is needed for generating UPI ID. By which you can transfer your money. Your sim card which is registered in bank is available in same phone on which you are Logged In your Phonepe account. Because you will receive an OTP on this number.
Thre are three different method to send money on Phonepe.
Phonepe Wallet
UPI Credit card or Debit card
Registered Bank Account
You can easily add a bank Account in Phonepe. We are sharing some easy steps to add your account on Phonepe. Using these steps you will add your account.
Click on menu button in top right corner of the screen.
Go in Bank Account section and click on Add New Bank Account option.
Select the Bank from given list of banks, which you want to link.
Phonepe fetch your bank details using your number and link with your account.
Now click on UPI PIN Button to set your UPI PIN.
Enter your card details ( last 6 digits and expiry date of your card).
Enter OTP and set your PIN.
You bank account has been added successfully.

How To Sign up PhonePe Account Steps in November 2023?
1) First of all, Download PhonePe app Here
2) Install & Open the Phone App.
3) Slide screen and Sign up for account.
4) Verify your Mobile number via OTP.
5) And complete minor process.
6) Now Select your Bank then they fetch your details.
7) You will be greeted with Phonepe dashboard
8) From Phonepe App Dashboard, You can Recharge You Mobile, DTH or Pay Your Postpaid Bills, Electricity Bills etc.
9) That's it You have Successfully Registered or Created Your Phonepe Account.
10) Enjoy, Happy Spendings 🙂
Also Read:
PhonePe Create Account Video:
FAQs :-
Q.1 What is phonepe wallet ?
"PhonePe Wallet" is a Semi-Closed Pre-paid Payment Instrument approved by the "Reserve Bank of India" vide Authorisation Number: 75/2014 dated August 22, 2014.
Phonepe is an App based on UPI to Prepaid Recharge, Postpaid Bill-pay, Electricity Bill Payments, DTH Recharge, Gas Bill Payments, To Purchase Gold, To Pay Merchant online and Offline, Shopping on Flipkart, Ebay and various online stores etc.
Read: How to Signup or Create Account on Flipkart.com Beginners Guide
Q.2 How to use phonepe ?
You can Follow above Steps to Register and Use Phonepe.
Q.3 Who is phonepe owner ?
Sameer Nigam is the owner of Phonepe App.
Q.4 Is phonepe safe to use in Mobile ?
Yes, It is 100% safe to use as it is a subsidiary of Flipkart-India's Biggest online Store.
Q.5 How much phonepe Wallet limit is ?
Wallet limits issued by the RBI
Requirements and Limits for PhonePe wallet
Refunds/Wallet Balance (Max.)
Purchases (Max.)
Withdrawal (Max.)
Monthly
Rs. 10,000
Rs. 20,000
Rs. 25,000
Per Transaction
Rs. 10,000
Rs. 10,000
Rs. 5,000
Q.6 What is Eligibility to Open Account on Phonepe Wallet ?
Eligibility
PhonePe Services are currently available to customers with an active Indian mobile number, a smartphone and having a bank account in India.
PhonePe UPI payment is available only to people:
with bank accounts in one of the UPI member banks
who have provided the same mobile number to PhonePe (during registration) as the one registered with their respective bank.
Q.7 What are User Responsibilities ?
1. Beneficial Owner
You must be the beneficial owner of the Account, and conduct business only on behalf of yourself.
2. Username and Password
You must be the beneficial owner of the Account, and conduct business only on behalf of yourself.
A set of username and password is unique to Your use of the Service and You shall not share, assign or permit the use of Your username and password to any other persons.

You acknowledge that sharing of Your username and password with other persons (collectively, "multiple use") may cause irreparable harm to PhonePe. You shall indemnify PhonePe against any loss or damage suffered by PhonePe as a result of such multiple use.

Also, You undertake to notify PhonePe immediately of any unauthorized use of your username or password or any other breach of security. You agree that PhonePe shall not be liable for any loss or damage arising from your failure to comply with this section.

You shall be solely responsible for:

maintaining the confidentiality of Your PhonePe username and password
being maintaining the confidentiality of Your Bank account MPIN and OTP messages
maintaining the confidentiality of any credentials or/and information using which, one can impersonate you
all transactions and activities that occur under your username and password
all consequences of use or misuse of your username and password
never sharing any of the above credentials with anyone including anyone claiming-from or from bank, PhonePe/ FXmart,etc.
3. If you are a business entity, you agree that all officers, employees, agents, representatives and others having access to the username and/or password have been duly authorized by you to use the Services on your behalf and to legally bind you.
Then, You shall be responsible for all actions by current and former officers, employees, agents, representatives and others, regardless of whether authorized by you, that access the Services using the business' user name and password.
Keywords:- phonepe sign in, phonepe signup, phonepe create new account, phonepe login new account, phonepe create account, how to create phonepe account, phonepe merchant account registration, create phonepe account, phonepe new account, how to create phone pe account, phonepe registration, phone pe sign up, create phone pe account, phonepe dashboard, phonepe owner, how to deactivate phonepe account, phone pay registration, phone pay register, phone pe sign up, phonepe sign up, phonepe register, phonepe merchant registration, phone pe register, phonepe account, phone pe register,
We hope you have enjoyed our work, if you liked it Please help us reach more people like You. Share this article with your Friends using below buttons. Sharing is Caring 💗