If your mobile SIM is blocked and asking to enter the PUK code to unlock your number in September 2023. It means your SIM is blocked and you can't make any call from your number. The PIN is configured for your SIM card needs to be enabled on the handset. It acts as a security feature on your mobile number.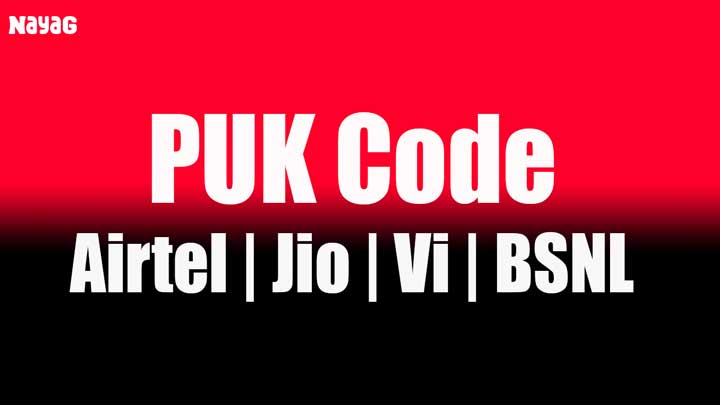 How to Get PUK Code in September 2023 ?
Each time when you switch your handset, there will be a request to enter the PIN. If you are facing the same problem then here are the steps to get all Indian network companies PUK code.
1. How to Get Airtel Number PUK Code
If your Airtel number is locked and asking to enter the PUK code to unlock. How you can get Airtel PUK code, Just call on the Airtel customer care number and verify your ownership detail. If you have successfully verified all the details, the customer support executive will give you code after verification. Also, you can solve this problem at your end. If you are using the Airtel android application and your account is logged in then you can follow the below steps to recover your Airtel number PUK code.
Step 1) Download My Airtel App and login.
Step 2) Now find the HelpSupport >> Others option.
Step 3) Now select 'I want to know my PUK number' option.
Step 4) It will ask to click to know your PUK number.
2. How to Get Jio Number PUK Code
Jio customer call on the Toll-Free number 18008899999 and follow the system IVR instruction. To know your Jio PUK code, wait for the 6th option until the system asks to 'Unblock PUK code'. Now follow the instructions and verify details to know your jio number PUK code or either you can talk with the Jio customer support executive in the chat to unlock your PUK code.
3. How to Get Vi PUK Code
Vi or Vodafone Idea customers can get PUK code by following the steps of Vodafone or Idea Sim. You can also get your Vi Puk Code Number by following the steps below:-
1) The PUK code is a number unique to your SIM card. It is used to prevent unauthorized use of your account, and keep your SIM details safe.
2) You can dial 199 IVR toll free & browse through our menu options to get your PUK code to unblock your SIM.
4. How to Get BSNL Number PUK Code
Bsnl customer can call on the helpline number 9415024365 to get your Bsnl number PUK code or either you can call to Bsnl Customer care number from another Bsnl number for any help and assistance needed.
5. How to Get IDEA PUK Code
Idea customer can Dial *121*4*1*13# ussd code to know your Idea number PUK code or call on the Idea customer care number from another Idea number and verify your details to Idea customer support executive to know your Idea number PUK code.
6. How to Get Vodafone Number PUK Code
Vodafone customer can Dial *111*3*8# ussd code to know your Vodafone number PUK code or call on 199. When you will call, it will ask to select from the IVR options, select the relevant option, and follow the system instructions. For any other support and assistance call on the Vodafone customer care number.
We hope you have enjoyed our work, if you liked it Please help us reach more people like You. Share this article with your Friends using below buttons. Sharing is Caring 💗