Set Caller Tune in Airtel
Hello reader! In this article, we will discuss how to set caller tune in airtel. If you are the user of airtel and want to set caller tune in your phone, then read this article and set your favorite caller tune. We are going to list all Set Caller Tune in Airtel December 2023 via USSD Code, SMS, Call Methods.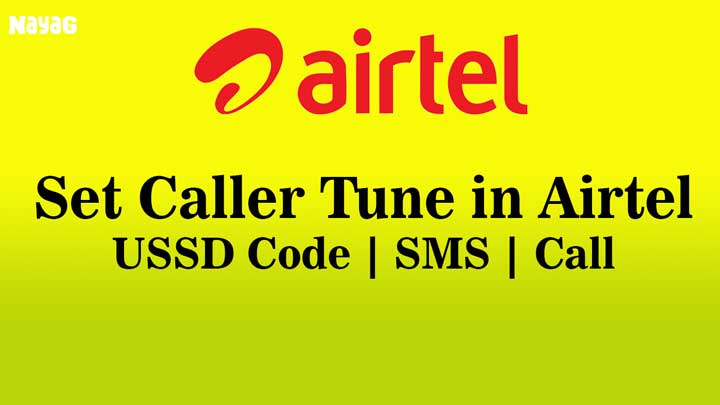 Airtel provides caller tune facilities to its customer. Active your airtel caller tune and entertain your callers with Airtel Hello tunes.
It's possible to play different Hello Songs for various callers, set person hello tunes for friends, family, partner and business associates.
Activation/Subscribe Airtel Hello Tune in December 2023:
| Name | Number |
| --- | --- |
| To select Song/Subscribe | Dial *678# |
| SMS | 543215 |
| Call | 543211 |
| Record a song | 57878 |
| To Copy Hello Tune | Press *9 (for Airtel nos only) |
| To copy Hello tune(other) | Call 543211, Follow IVR |
| To SET Song by SMS | SET <songcode> to 543211 |
| To SET Song by Call | Call 543211-songcode |
Steps to activate Airtel Caller Tune Number
Now call 543215 and state that the title of your song or movie to look for your favourite Hello Song.
After choosing the language, state the title of the song you want to search for.
The machine will play all of the songs. Just pick the song you would like to place as your Hello Tune.
Also Read
Activate Airtel Hello Tunes Codes
Dial *678Number to activate airtel caller song with ussd method. You can pick caller song or use the search choice to get the tune of your desire.
Set caller song on Airtel Account
Select from the most extensive assortment online across classes like Bollywood, Regional, International, Whacky Sounds, Pure Instrumental and a whole lot more.
Go to the Airtel Hello Tunes and Discover the song you want to place as a caller tune on airtel number.
Select the song from the listing, which you need to place as a caller tune on your number
Now choose the marked icon.
Input & verify your cellular number.
Now select your subscription depending on your wish.
Eligibility
The Hello tune Service can be obtained for both Postpaid and Prepaid Airtel clients
This is valid every time a contributor is out of this county or is on airtel roaming service
Hello song Service is not accurate for diverted calls, secondary lines for subscribers with dual SIM cards
Hello song Service cannot be used together with the typical standard ring rear song
How to Request for the Hello song Service
Read through the catalogue and choose the songs you would like to register. Enter your contact number and follow the steps to accept the tune
A similar process exists for Album
Airtel Caller Tune Charges
For every subscribe of a hello song these charges shall apply:
A content fee of Rs. 15.00 per theme for 90 days employs
Hello song Subscription charges of Rs. 30 for 30 days use
A record content fee of Rs. 30 per record for 90 days uses
If you do not have enough balance in your accounts to pay the hi tune fee, then the following fallback cost will applicable
Gifting and Copy of Hello song:
Gift: You can gift a hello tune you have subscribed to a different Airtel subscriber as a present. You will billed Rs. 15 prices of this song if he is a hello song subscriber else you will be billed Rs. 45 very first moment. On renewal, the recipient of this gift would charge
Copy: You can replicate the hello tune of the individual by using a photograph. You bill the Rs. 15 cost of a hello song once you successfully copy the song of the individual. If you aren't subscribed to the helot tune service you would be charged Rs. 30 monthly. Validity Period and Auto-Renew
Unsubscription of the Airtel Hello tune Service
All hello tune content subscription valid from the length of the subscription period, in the event the clients subscribe to a different hello song content inside the subscription period of the earlier material, the same shall be terminated and new subscription period will be initiated from the date of registration of the brand new hi tune
All hello song shall be valid for a period 90 days from date of subscription, which applies for songs obtained through gifting or replicate.
The hello tune subscription is valid for 30 days from the date of subscription
All hello song renew automatically on the 30th day. Airtel will send a reminder SMS on the 28th day and auto-renewal will done on the 30th day. In case you don't have enough credit fall back, charging will applicable, in the event of fallback subscription, the renewal would perform earlier than 30 days.
In case you have multiple tunes once the past subscribe tune expires and isn't auto-renew, you may no longer have the ability to use the hello song service until you subscribe to another song
Airtel Customer Care Number
For more information, give a call to:
1800-103-4444 or 18001034444
Call this number from your register mobile number and get your information. This is a toll-free number available for 24/7.
You can also get information from the official site airtel.in.
Activate Airtel Caller tune Video:
We hope you have enjoyed our work, if you liked it Please help us reach more people like You. Share this article with your Friends using below buttons. Sharing is Caring 💗