Got stuck while unlock or reset of Mobile in FRP. Then, We are here with latest frp bypass apk and Tools. These will help you easily break the lock of your Oppo, Vivo, Samsung, Xiaomi, Redmi, Realme, Honor, Motorola, Oneplus, Nokia etc Smartphones.
What is FRP Full Form ?
FRP is the latest addition to the enhanced security of mobiles. FRP full form stands for Factory Reset Protection. We have explained everything about FRP in detail from Full Form to Bypassing in this article.
Android Factory Reset Protection (FRP) is a new feature in some of the devices with Android OS 5.1 or higher. FRP prevents from other people using your smartphone and performing a factory reset without your permission.
Factory reset in that case is only possible with access to your Google Account and screen lock information.
If you perform the hard reset operation on your device with Factory Reset Protection switched on, you have to enter the login and password for the last Google Account that was registered in your cell phone.
This security protection will ask for the credentials of old Google Account before the system loads up and you can't use your device without inputting the appropriate Google details.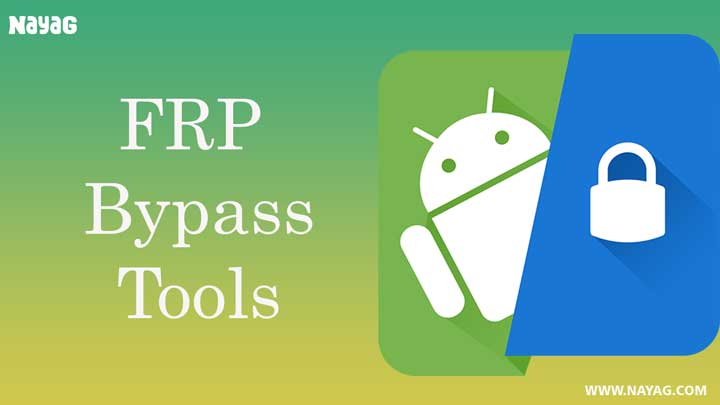 How does FRP work?
When you perform a Factory Data Reset, all settings are returned to the factory default settings. All data is erased, including files and downloaded apps.
If you have a Google Account set up on the device, FRP is active. This means that after the reset, you'll be required to log in to the Google Account using the username and password. If you have multiple Google Accounts set up on the device, you can log in using any of the accounts.
If an unauthorized person tries to reset the device by another method, the device would still require log-in using the Google username and password. This means that if your device is lost or stolen, another person would not be able to reset it and use it.
What should you need to know about FRP?
If you want to reset your device to factory defaults, make sure you know your Google Account and password, because you'll need to log in at the end of the reset.
If you want to reset your device to factory defaults, but don't remember your Google username and/or password, you can do one of these:
Check your device s Account settings for your account name, and reset your password via the device or at www.google.com. It can take 24 hours for the password reset to sync with all devices registered to the account.
Remove the account before you reset the device.
How to use FRP ?
If you already reset your device, but don't remember your Google username and/or password, the device can't be used. In that case, you can do one of these:
1. If you know your Google username but can't remember the password, you can reset your password on the device, or at www.google.com. It can take up to 24 hours for a new password to sync with all registered devices. After 24 hours, you can try logging in to your phone with the new password.
2. If you have multiple Google Accounts, and you can't remember which Google Account you set up on your device, visit https://www.google.com/android/devicemanager .
Log in with your Google username and password and check the list of devices registered to the account. If you don't see the device listed on the account, it means the device is registered to a different account.
Use the same process to check for devices linked to your other Google Accounts. When you find the registered account, use it to log in to your device.
3. If you can't remember any of your Google Account information, you can send your device, along with proof of purchase (invoice/bill), to an authorized Device Service Center. Manufacturer has special tools to reset the phone to factory defaults with no protection enabled.
Why, We Crossed above line? Because You don't need to go anywhere. Just follow our article to get the Things sorted. We will provide every tool which Manufacturer uses and one they don't uses.
FRP Bypass APK Download
Below is the list of all working FRP Codes, Tools and Methods to get access back to your device. This is the Most popular and Heuristic list which is not available anywhere. We recommend you to try each method, One of these will surely work for you.
#1. VNROM FRP
Vnrom FRP Bypass Apk is a small simple Android application made for unlocking Google Account lock from any Android phone without PC. If you being worried about flashing or don't want to use FRP tool then these simple steps and Vnrom Net FRP Apk will help you to unlock the Google account lock easily.
Download Vnrom FRP Bypass Apk Latest All Version Free
You can easily download the latest version of VNROM APK from here. It is exclusively available only for the Android platform.
| | |
| --- | --- |
| File Name | VNROM Bypass Net FRP.apk |
| File Size | 28.5MB |
| Type | apk |
| Compatible | Android 5, 6, 7, 8, 9, 10 |
| Developer | VnRom.Net |
| Provider | NAYAG Spot |
| Download Link | VNROM apk Direct Download Link |
Installation of vnROM FRP APK
Download VnRom FRP bypass APK from the above link.
Open the device and try to set it up.
When it asks to verify the account, connect the USB device to your Android device.
Now, install the APK from the USB drive onto your phone.
Once the app is installed, go to settings and perform the factory reset.
When your android phone gets rebooted, you can successfully set up your device without verifying the previous account.
Also Read:-
#2. MSA FRP Bypass Tool
MSA FRP is a free Android bypass APK like Lucky Patcher and LYKA that lets you override system settings to unlock features. In this case, the app unlocks your Google Account via the browser on your device instead of a PC. It removes Google's Factory Reset Protection (FRP), negating the need to flash the phone.
In some instances, you need to use your Gmail password to unlock your Android phone. MSA FRP comes in handy if you can't remember what the details are. You'll also receive the latest updates, specifically where security protocols are concerned to keep all your data safe.
Unlock your Android device
Sometimes your Android may become locked due to Google's FRP policy. This disables access to your device, which can become distressing. MSA FRP helps you out by bypassing the security protocol via a web browser instead of a PC. You'll have your data and files back quickly as long as you follow the correct process.
No password needed
Thanks to the MSA FRP override system, you don't need your Gmail password to gain access to your Android device. It uses other functions to unlock it for you, which you can find in the web browser if you have this app installed. If you cannot, then you won't be able to use this feature and will have to find another way to unlock it.
Protection of data
The beauty of MSA FRP is that it only allows the Google account connected to the app on your phone to unlock the factory settings. If someone has stolen your phone and FRP kicks in, they can't use their accounts to open it. It'll remain locked with your data secure until you bypass it with this tool.
Hard resets
The main issue with Google's FRP is that you don't want to hard reset if the app is active. Doing so will automatically lock you out from your device as the app sees this as an attempt to steal your information. Fortunately, MSA FRP can help you gain access if you made this mistake.
Bypassing factory settings
MSA FRP is an extremely handy tool if you've been locked out of your device after hard resetting or if someone stole your phone and you later retrieved it. You may have forgotten your Gmail password, but you can still get in as long as you connected your Gmail account to this app.
MSA FRP Bypass by Texel APK File information
| | |
| --- | --- |
| File name | MSA FRP Bypass by texel.apk |
| Alternative file name | MSA FRP Bypass by texel |
| File size | 8.45 MB |
| File type | application/vnd.android.package-archive |
| File extension | apk |
| Uploaded on | 1 Day ago |
| Download Link | https://androidhost.org/wHvWSfq |
#3. Easy FRP Bypass Tool
By using Easy FRP Bypass APK you can easily bypass the Google security patch from your Android device. This app is working on all Android devices. You can follow to below guide to bypass FRP. This is one of the most used APK to bypass Google account verification. Below is the button to download the latest and working FRP bypass APK Tool with a direct download link.
We would explore two methods here to bypass Google FRP lock easily.
Method-1 (Easy FRP) E FRP Bypass with OTG
To follow this method, you need to have a PC, OTG cable, and a USB drive. After you arrange these elements, follow the below steps.
Download Easy FRP Bypass APK.
After downloading this file copy it to the USB drive.
Let the phone start that has an FRP problem.
Fulfill the basic instruction from the setup wizard that gets open automatically.
Now, the FRP screen would be open to asking for login information of your Google account.
Join the smartphone with a USB pen drive with the help of an OTG cable.
Open the Easy Bypass APK file from the file explorer.
You may encounter an installation problem at this step. It demands the need to allow "installation from unknown source" from the setting option.
Complete the installation and open the menu setting by clicking the respective button.
Choose the setup and reset option in the setting.
Click factory data reset and confirm it.
Congratulations! You have successfully fixed this issue. It is good to let your android phone restart and all is done.
Method-2 (Easy FRP) E FRP Bypass without OTG
In contrast to the first method, which demands OTG, this method needs a good internet connection in addition to the FRP bypass app.
Turn your respective smartphone on and check the appearing setup wizard.
Fulfill the appeared instructions that are needed to complete. Let the keyboard of android open and hit on the setting.
Hit the "menu" button followed by the "help and feedback" option.
Write your name or some other digits in the appeared area and hit the "share" button.
Hit the "messaging" icon and write some digits in the "To" section flowed by the selection on the contacts icon.
Now, hit on the call icon followed by the selection of the "new call" option.
Let the dial pad appear and write *#*#4636#*#*.
Hit the "statistic" button and then select the "back" button.
Here is a need to go to the "Settings" option.
Hit the "Backup and reset" button on the appearing screen.
Choose the option of "Factory data reset" and let it confirm
You have bypassed the Google verification successfully with this method. You can choose any of these procedures according to your facility.
Download Easy FRP Bypass:-
Below are two versions you can use both one by one.
#4. FRP AddROM
AddRom apks is allowed you to bypass the google account activation lock through the browser while the android device is on factory reset protection (FRP) also you will get the shortcut link, once you click it will take you to settings and browsers.
To bypass FRP with addrom apks you need to enter a chrome browser, but if the FRP lock is on like Samsung device the best browser that you can use to download addrom apks to bypass google account activation lock (FRP) is internet browser because is very easy to download addrom apks.
HOW TO BYPASS GOOGLE ACCOUNT LOCK WITH ADROM APPS.
Once you're having issues with Android 11 with factory reset protection lock which means google account activation lock after factory resetting entirely.
Try to enter chrome on the locked android device if you don't have a piece of knowledge about FRP lock bypass I'll show you how you can do it easily.
I'll make a list of addrom apk list each with direct links once clicks to downloads include shortcuts that you can use during the FRP lock bypassing.
HOW TO USE ADDROM FRP BYPASS APK
Generally, some android 11 are stubborn and have difficulty bypassing google account activation lock but with addroms shortcut and apps, you can do it easily.
#5. Google Account Manager Apk FRP Bypass
This is the Google Account Manager APK For Remove Factory Reset Protection. You know that Google intended a security system that called the FRP (Factory Reset Protection) for sure that you are an original owner when your phone is reset. It is an excellent app that helps decrease theft cases.
Sometimes the original owners change the password or forget the password just before or after mobile reset, for that reason the user cannot sing in on his smartphone. Google Account Manager 7.0 APK.
Google Account Manager All Version Download Link
This app has many versions are available now, but the deferent device supports the different version app. for example, if your device is android v8 and you download the Google Account Manager For Android APK V7.0 for your device. It does not support your device. Because if your device is v8, you must download the Google Account Manager For Android APK v8. So, be carefully download this app.
#6. FRP Apps Waqas Mobile
Waqas Mobile FRP apps are also the same apk developed by VNROM & addRom. So, You can use above Top Methods in place of Waqas Mobile.
#7. FRP Hijacker
FRP Hijacker tool is a free utility program developed by Gsm Hagard that especially works to bypass FRP lock from Samsung Galaxy phones in a few steps. You can use the tool to fix Softbrick error, factory reset, and Unlock FRP in download, dialer & ADB mode.
So, follow these simple steps and download the Samsung FRP Hijacker Tool latest to erase your last active Google account without accessing any password to get control of your Samsung phone.
GSM hagard FRP Hijacker tool 2021 with Password is free program you can use to unlock Google verification from every Samsung Galaxy Android 10 Q to 5.0 lollipop version phones.
Samsung is the top best smartphone maker brand across the globe. All Samsung phones come with Qualcomm Snapdragon, SPD, Exynos chipsets, and this Samsung tool can handle and works well with all the variants of chipsets based Samsung Galaxy Android Phones.
Download FRP Hijacker Tool
This tool will be very helpful if you forget the pattern, Pin, Password, or your Samsung phone stuck at boot loop. Nowadays, Forgetting screen passwords is a very common problem because of the many different types of passwords we use. And after the factory reset you need to enter the old pre-synced Google account details to avoid the FRP lock problem.
| | |
| --- | --- |
| File Name | FRP Hijacker by Hagard v1.0 |
| File Size: | 20MB |
| Type | exe |
| Supported Platform: | Windows XP, Windows 7, Windows 8, Windows 8.1, Windows 10 |
| Password | www.gsmhagard.com |
| Download | FRP Hijacker by Hagard v1.0.zip |
If your PC meets the minimum requirements then you can easily run and install the tool on your PC. check on below I share a detailed guide to use the FRP hijacker tool to remove the Samsung FRP lock.
Install Microsoft .net Net Framework on your computer
FRP Hijacker requires a password to install that you can find in the downloaded zip file
How to use FRP Hijacker to Remove Samsung FRP
Here is the guide for you that you can follow to install the FRP Hijacker tool on your PC;
First of all, download the FRP tool on your PC.
Then extract the tool on your pc by using the Winrar or 7zip program.
Now install the Net framework on your computer.
Once the framework installation completed, then run "FRP Hijack.exe" from the extracted folder.
A new setup will be open, click on the Next button.
hen it will ask you to put the password to complete the installation.
Type the Password- www.gsmhagard.com and Click on the Next button.
Make sure: you need to use this password to complete the installation of the FRP hijacker Tool.
Once the installation process is finished, then click on the finish to launch the program.
Now your tool is almost ready for FRP Unlock.
Open the FRP Hijacker tool on your computer.
Turn off your Samsung phone.
Now press and hold the Volume Down + Power button together and when holding the buttons connect the USB cable to your phone. If your device has a Bixby or home button then press that also along with Volume Down & Power button.
Now a warning screen will appear on your phone then release all buttons.
In the Warning screen press, the Volume Up button once to boot into the Download Mode.
Now your phone is in the Download mode.
connect your device to the computer.
Now open the FRP Hijacker tool and click on the Scan button and it will detect your phone.
Then select the mode: Remove FRP or SoftBrick Fixer.
Select your device model.
Then click on HIJACK IT.
Wait for a few seconds to reboot.
That's it.
#8. Pangu FRP Unlocker
Download Pangu FRP Unlocker FRP Bypass. Pangu FRP Unlocker is working on all android 7.0 7.1.1 and 7.1.2. By this application, you can bypass FRP lock on Samsung, LG, Mi, HTC. This solution is tested and working without any error in Samsung security if the old method of FRP bypassing failed. no need to download big sized of combination and flash file for now.
You can easily download the latest version of the Pangu FRP Bypass Unlocker APK Tool from here. It is exclusively available only for the Android platform.
File Name: Pangu_FRP_Unlocker.apk
File Size: 28MB
Type:.apk
Compatible: Android 5, 6, 7, 8, 9, 10, 11
Credit: Pangu.in
Download: Pangu FRP apk
How to use Pangu FRP unlocker ?
Make sure that your device charged more than 20% then go to lock home screen and try to press the volume down and up keys together for turn on talkback.
If volume down and up keys not enable the talkback option. Use two fingers for 10 seconds. keep holding both fingers on screen until you feel a beep.
After turn on talkback option. Create L gesture to get talkback options and select talkback settings. after enter in talkback settings turn off talk back.
To turn off talkback, press volume up and down key. It will turn off the talkback feature.
Now go to the bottom of the screen and select feedback option. It will open a help and feedback page.
Now select get started it will show you a video click on the video. This option can be found on the top of all topics.
Click on the video it will show you a circle. click on the circle and it will open youtube and also open a chrome browser.
Now download Apex launcher and install apex launcher.
After installing apex launcher open it. It will look like you normal android launcher. scroll windows and find settings.
After open settings go to other security settings and find "device administrator"
Open Device administrator and deactivate "Find my device"
Also deactivate "Android Device Manager"
Now go to Application Manager
Find Google Account Manager and disable "google account manager"
Go back and search on list Google Play Services Also disable the "google play services".
Now download the Pangu FRP unlocker APK from above link and install the Pangu FRP unlocker APK
After installing the Pangu FRP Unlocker you can close it or you can open this application.
After installing the Pangu FRP unlocker APK. Now it is time to add a new Gmail account in the locked mobile. Use any Gmail account and password.
You can use any Gmail account but do not use any account which is not yours.
enable the "Google account manager"
enable the "Google Play Services" before restarting the device otherwise device will stuck on "checking connection".
At the last reboot the device. the device has been unlocked
You have successfully unlocked FRP without even using a PC or Computer.
Samsung FRP Tool
Each method mentioned above can be used by all manufacturers including Samsung. They work pretty well for all devices specially for Samsung Mobile phones.
We understand that frp bypass Samsung is essential and most popular that's why we provided complete list of Samsung frp bypass apk. These Samsung frp bypass tool are latest working mods available for samsung j2 frp bypass and other latest devices.
Oppo FRP can also be skipped using above tools and apk. You can also try using code *#812# or *#813#, if these code works for You. These are the best tools for remove frp lock and to do frp unlock.
One can use these FRP files bypass to get access to device.
Tags:- Romfast frp, mi 5a frp bypass, rootjunky frp, custom binary blocked by frp lock, halabtech frp
honor 9 lite frp bypass, honor 9 lite frp umt, lava z60 frp bypass, mobile team frp patch, frp bypass tool 99mediasector, frp bypass tool for pc, gsmedge frp etc
We hope you have enjoyed our work, if you liked it Please help us reach more people like You. Share this article with your Friends using below buttons. Sharing is Caring 💗