Android Secret Codes and Hacks
Android Reset Code
This Android Reset code can be used to reset Android mobile to factory Settings. After using Android hard reset code, All data stored in mobile will be erased.
These Android master reset code Format User data Partition. The mobile will revert back to the Software which it came as a New Phone.
Android FRP Code
You can reset frp of any android mobile using frp code and tools described in FRP Bypass methods.
Android Test Code
If you are any problem in your Android Mobile Phone. You can use Android Test Code to diagnose any problem in the device. Android Mobile Check Code are easy to use.
These Android Phone Check code are useful in various issues such as Display, Mic ,Battery, Speaker, Network and Other HW issues.
So, It can be also be used as Android Mic Test code, Android Network code or Android Battery Reset code. Various Android Mobile Test Code are given in Table.
Android Touch Check Code
Having Problem in Display like seeing black or white dots, inaccurate colors. Then, you can try Android Touch Check Code to check your display related problems.
Android Display Check Code works as First Aid for checking Screen related Problems. Sometime, Using Android Screen Test Code can give you ample amount of information. Which can be used to fix the cause efficiently. You can see display code in Table.
Android IMEI Check code
You can check IMEI Number of your phone using the Android IMEI Check code given in Table.
Android Engineering Mode Code
You can enter in Engineering mode in Qualcomm based mobile using the Android Engineering Mode Code given in Table.
For MediaTek Mobile Android Codes , You have to download a app from Play Store called "Shortcut Master".
Today we are sharing Android Phones USSD codes list. Android if world's most popular mobile and tablet operating system. USSD (Unstructured Supplementary Service Data) codes are easy to use to perform specific task or operation.
You don't need to navigate to different menus in order to make something happen, if you know the USSD secret code to make it happen.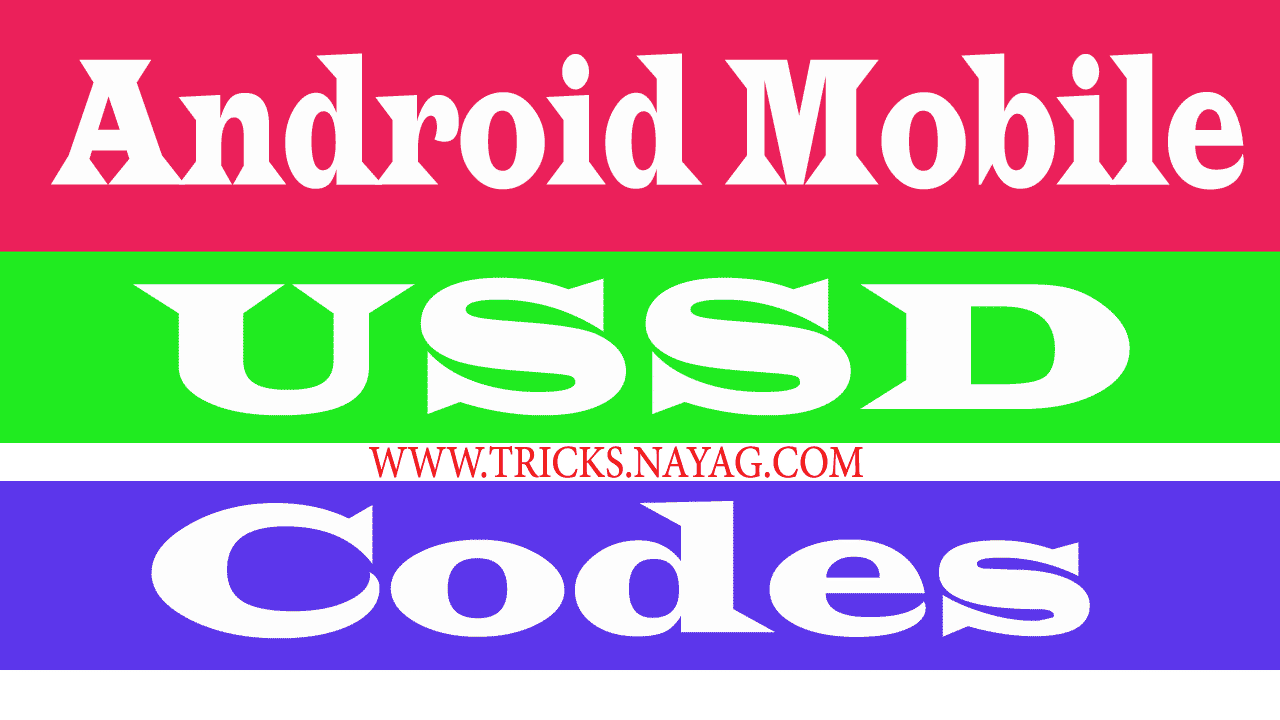 Also Read | Samsung Secret Codes
Android Secret Codes List
| Android Secret Code | Description |
| --- | --- |
| *#06# | Display IMEI Number |
| *#*#7780#*#* | Mobile Resetting |
| *#*#7262626#*#* | Field test |
| *#*#4636#*#* | Mobile ke bare me |
| *#*#232337#*#* | Show Address of bluetooth Device |
| *#*#34971539#*#* | Camera information |
| *#*#7594#*#* | Direct Power Off |
| *#*#8255#*#* | Monitor Google Talk Service |
| *#*#197328640#*#* | Service Test Mode |
| *#*#4986*2650468#*#* | Firmware information |
| *#*#273283*255*663282#*#* | Data Backup of Media |
| *#*#1111#*#* | FTA Software Version |
| *#*#2222#*#* | FTA Hardware version |
| *#*#526#*#* | Test Wireless LAN |
| *#*#1472365#*#* | GPS Test |
| *#*#44336#*#* | Show Build Time & Change list Number |
| *#*#0283#*#* | Packet Loopback Test |
| *#*#0842#*#* | Vibration & Backlight Test |
| *#*#*2663#*#* | Show Touch Pad version |
| *#*#2664#*#* | Touch Screen Test |
| *#*#*0588#*#* | Test Proximity Sensor |
| *#*#*3264#*#* | Check RAM Version |
| *#526# | WLAN Engineering Mode |
| ##778 {+call} | Brings up Epst Menu |
| *#*#232331#*#* | Bluetooth Test |
| *#*#8351#*#* | Activates Voice dialing logging mode |
| #*#*8350#*#* | Deactivate voice dialing logging mode |
We hope you have enjoyed our work, if you liked it Please help us reach more people like You. Share this article with your Friends using below buttons. Sharing is Caring 💗