Thinking of buying keypad mobile then you come at the right place. Because here we are going to to list the best Samsung keypad mobile phones. When we talk about keypad phones the brand which comes to our mind is Samsung because these mobiles have very good life, lightweight and small in size. We did a good amount of analysis to find the best phone for you.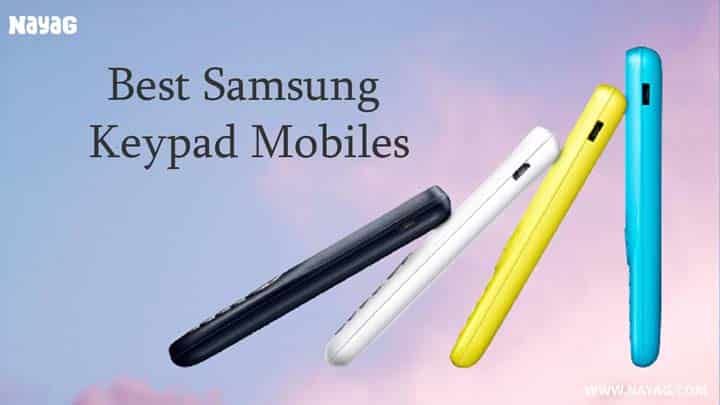 Samsung Duos keypad mobile provide good battery backup. Although these are having very less features that is a pros rather than a cons. These mobiles provides a good lifetime. We have written a curated list which set for every budget and users.
Latest Samsung Keypad Mobile
#5. Samsung Metro B350E – Big Display Keypad Phone
Samsung Metro B350 comes with a large display of 2.8 inch and Dual sim has a battery 1200 Mah. The price is around Rs 3000. You can go for this if if you need a large display. But there are other mobiles on the list which provides more value for money than this mobile.
#4. Samsung E1200 – Cheapest Samsung Phone
It is the cheapest Samsung phone Prices around Rs 1000. It comes with Single Sim support , 1.5 inch screen, some basic functions, 800 mah battery. Weight 66 gram. It has no FM, no micro-usb charging but custom S20 pin Charging. It can be a good option if you are tight on budget.
#3. Samsung Guru FM Plus B110 – Cheapest Dual Sim Phone with FM
It has 1.5 inch display. The weight is 66 g. Battery is 800 mah. It has dual sim and USB charging it has no camera. It has FM radio. The prices around Rs 1300. It can be a good option if you all need a dual sim Samsung Keypad Mobile.
#2. Samsung Music 2 – The Audio King with Dual Sim
This is a Good Phone if you are Music lover and need a dual sim basic Phone. It provides a 2.0 inch display and has no camera. Fueled by 800 mah battery inside and Micro-USB for charging. Provides FM radio as well. This is perfect Samsung feature phone is you don't need a camera. The Price is around Rs 1600.
#1. Samsung Guru B313 – The Perfect All Rounder
Samsung Guru B313 comes with dual sim functionality and 1000 mah battery. It has a VGA rear camera. Screen size is 2.0 inch. Weight is 75 gram. Slim and Small in Size. It supports memory card and has a Bluetooth which can be used to share files. Comes with pre installed Facebook and Twitter application. It has nearly all feature which a a keypad mobile should have. That's the reason we put this phone at number one position. The price is around Rs 2000.
Samsung Keypad Mobile 4G
Samsung has not launched any 4G keypad mobile phone in its portfolio. If you need 4G keypad phone then you can try considering other brands such as Nokia and other Indian brands. Personally, I would not recommend you to buy a 4G keypad phone because these does not provide a good value for money. You should consider a smartphone if you are thinking of buying a 4G keyboard phone.
Samsung Keypad Mobile Dual sim
You can choose any out of 4 dual SIM mobile phones. These mobile come with dual sim functionality, provides a lot more features and good value for money. These Samsung Keypad Mobile feature phones are so cheap that it can fit in budget of most of the people. These are the most popular and currently available mobiles manufactured by Samsung.
Also Read:
Samsung Keypad Folding phone
While Samsung used to create Flip and folding keypad phones. Samsung has discontinued manufacturing of folding keypad mobile phones. These are now out of date and not available in online stores like Flipkart and Amazon. You may find these in local mobile shops.
Samsung keypad phones with WhatsApp
Most Samsung keypad mobile phones does not comes with WhatsApp installed. Samsung Metro XL is one such mobile from Samsung which comes with WhatsApp support. But it is not available on online stores. You can try in offline local mobile shops. However, some Samsung keypad phone compare installed with Facebook and Twitter apps but the version you get is too old.
If you want use WhatsApp in keypad phones, you should consider some other brands manufacturing such phones. Reliance Jio phone and some mobiles of Nokia comes pre-installed with WhatsApp.
I hope, you are now able to decide your best Samsung feature phone. We have listed Samsung Keypad mobile reset codes and other Secret codes.
We hope you have enjoyed our work, if you liked it Please help us reach more people like You. Share this article with your Friends using below buttons. Sharing is Caring 💗