Get Amazon Flex Job in India on Amazon Flex App. Just do Amazon Flex App Download using Amazon Flex App APK. Know How To Use Amazon Flex?, Amazon Flex Full Guide, How To Work With Amazon Flex. I am going to give my Amazon Flex Review.
Shopping Giant Amazon is here with new Delivery Program where You can can Earn Rs.120 to Rs.140 Per Hour By Delivering Amazon Parcels Using Amazon Flex App. This is a Golden Opportunity to all that persons who have some free time in a Day or in a Week and willing to Earn Some Extra Income in their Life.
Amazon Flex is here to Earn some extra money to celebrate weekends, or to help their families and many more other reasons.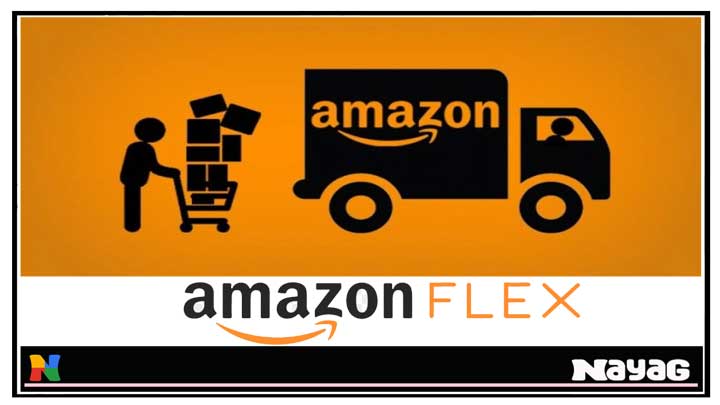 Here i will Give you all details about Amazon Flex and will try to clear or doubts regarding your question on it. Amazon Flex Job is all about Flexibility to the customers who are receiving their parcels or packages and for them also who is delivering this packages to them on time.
Now We are elaborating Amazon Flex to You so you can understand full process very easily!! We will let you know everything related to this in the next few paragraphs. So just Keep Scrolling this page and don't miss any Steps.
Also Read | How To Get Refund From Amazon
What is Amazon Flex and Your Review of Amazon Flex ?
Amazon Flex is a program where independent contractors, called delivery partners, deliver Amazon orders. Hundreds of millions of items are available through Amazon, including electronics, household essentials, and much more.
Delivery partners use their own vehicles to deliver packages to Amazon customers. Amazon Flex provides a flexible opportunity for Delivery Partners looking to turn free time into supplemental or part-time income it is like part time Amazon Flex Job.
Also Read | Amazon Quiz Answers Today
How To Apply On Amazon Flex App India:
1. First of All Open Given Link in your Default Mobile Browser to Download Amazon Flex App at https://logistics.amazon.in/app/download-app/
OR
2. Just Open Given Amazon Flex Registration Form and Fill Information and Get Amazon Flex App. at https://flex.amazon.in/
3. Enter Given Details in Asked Form and Click on Get The App Option.
4. Go to Settings and then Security and then Turn on Unknown Sources to install Amazon Flex App.
5. Now Turn or your Device Location and Move On to App and Start Registration Process.
6. Sign up for Amazon Flex using your existing Amazon account or by creating a new Amazon account.
7. Answer all their question asked to get your details.
8. Select a service area where you will pick up and deliver Amazon packages.
Note : Amazon Flex is Available in Bengaluru, Delhi, Mumbai, Hyderabad, Jaipur, Chennai,Pune, Patna, Lucknow, Ahemdabad, Coimbatore, Kanpur, Ghaziabad, Kolkata, Chandigarh, Vishakapatnam, Gurgaon Only. It Will Launch Soon For All Over India For First Come First Serve Basis
9. You have to Provide Tax and Payment Details to Receive Payments on Time.
10. Now Just wait for 5 to 10 business days to to check Your background by Amazon Flex India.
Also Read | Amazon Prime Membership Trial Free Trick
Amazon Flex Advantages
Flexible working hours. Book any slot in your spare time. (Each slot for 4 hrs.)
Great earnings upto ₹120 – ₹140 an hour / $18 – $25 an hour.
Weekly payouts and easy tracking through Amazon Flex app.
Book any available slot from your schedule through out the week. (First come first serve)
Amazon Flex Disadvantages
Finding addresses may be difficult for new riders.
Company didn't pay for petrol, vehicle maintenance, parking or tolls.
Amazon Flex Job Eligibility and Terms:
You must be at least 18 years old.
Android phone of version 6.0 or higher with at least 2GB of RAM.
Device needs to have a camera with flash, GPS location services, and an active SIM with voice & data connectivity.
A two-wheeler that meets all applicable law and safety requirements.
PAN Number.
Savings or a Current Bank Account.
Amazon Flex Will Cover Accidental Death coverage of up to INR 5,00,000/- and Permanent Disability coverage up to INR 5,00,000 /-
Amazon Flex FAQs–
Q. How do I know where to go for my block?Amazon.in orders
The app provides the starting address at least one hour before your block start time. You're expected to arrive on time to your scheduled block to pick up packages.
1) When you arrive at the Station, tap I've Arrived. Follow signs and cones to drive into the Station.
2) You'll be met by an Amazon process associate will ask you for identification and to use your app to scan an Arrival code. You'll then be guided to your assigned order location.
Prime Now orders
1)The layout of third party stores may be different. Once at the store, ask the security guard for the Amazon operations area. You will be asked to show your driver's license to verify your identity.
2)After entering the station, tap "I've Arrived" in the app, and meet the process associate in Amazon operations area. A process associate will guide you with the pickup process.
3)Once orders are assigned you can pick the orders from the rack. After you're done scanning and loading all the packages, tap Swipe to Finish, to begin delivering.
Prime Now store orders
1) The app will alert you when you are assigned an order for pickup. It will also provide the pick-up location, and tell you when to go inside to pick up your order
2) Packages may be found on racks, but chilled items may be located in another area, such as a refrigerator or a chiller
3) You may contact Amazon process associate at the store for exact location of the orders.
Q. What do I do when I arrive for my block?
When you arrive at an Amazon Delivery Station, please park your vehicle in the designated location. Swipe I've Arrived in the app, and look for the posted signs indicating Amazon Flex reporting location.
You'll be met by the Amazon station team, who will check your ID and provide an Arrival QR code for you to scan with the app. After you're done scanning and loading all the packages, tap Swipe to Finish, and proceed ahead with delivering the packages.
Q. What should I do after I have attempted all the packages?
Once you have finished attempting all the packages assigned, you must return undelivered packages, your bag, the mobile payment device and the cash collected to the original pick-up location.
Your eligibility for Amazon Flex will be affected if you fail to meet delivery service requirements. Once you have completed the handover, you are good to go, but feel free to check for more available blocks.
Q. What do I do if the customer rejects a delivery?
If you attempt to deliver an order and the customer rejects any or all of the packages, scan the package and update the status to "Rejected" in the app, and note the reason based on the customer's feedback.
Customers may reject an order if they've changed their mind, their packages don't match their order, or if they feel the package has been damaged. At the end of your block, please return any undelivered packages to their original pick-up location.
For orders picked up from third party stores, the return area is the same as the order pickup area. Your reliability rating will not be impacted if a customer rejects packages.
We hope you have enjoyed our work, if you liked it Please help us reach more people like You. Share this article with your Friends using below buttons. Sharing is Caring 💗