Roaring moon location pokemon scarlet and Violet : Since the launching of pokemon scarlet and violet, we get to see various type of pokemons in this latest version where we got to see three starter pokemons- Fuecoco, Quaxly, And Sprigatito. Now another pokemon we got to see called "Roaring Moon".
So, in this article we will talk about Roaring Moon pokemon that what type of pokemon is this and where can we find it. So, I hope that you will like this article and I hope that you will get all the minor to major information regarding this topic.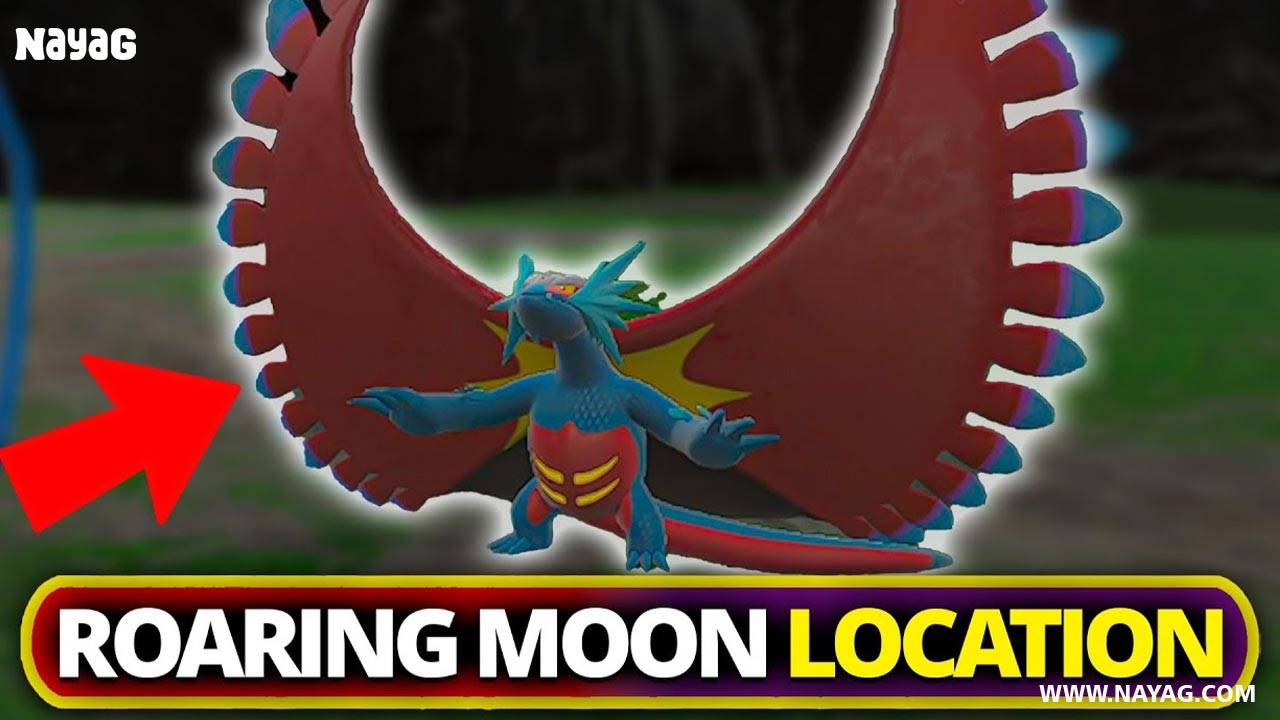 Roaring Moon Location Pokemon SV Overview :
| | |
| --- | --- |
| Topic | Roaring Moon Location Pokemon SV |
| Application Name | Pokemon |
| Offered by | Nintendo |
| Category | Games |
| Source | Official |
| Provider | NAYAG Team |
| Status | Working |
What Is Roaring Moon Location Pokemon Scarlet and Violet ?
Roaring moon pokemon scarlet/roaring moon pokemon violet : Roaring Moon pokemon is a dual-type "Dragon" and at the same time "Dark" type Paradox Pokemon which was introduced in Generation nine. It is not known to evolve into or from any other Pokémon, means that this pokemon can't evolve into any other pokemon but it appears to be an ancient relative of Salamence.
This pokemon is too hard to catch, infact latest research said that the percentage of catching this pokemon is less than 5%. Roaring Moon is a Scarlet-exclusive Pokemon that can only be encountered inside the hidden cave northeast of Research Station 3 in Area Zero. Well, if you want to catch this pokemon then don't worry you can find this pokemon in a specific part of (area Zero).
This is a last area of the game, but a big thing about it is that you won't be able to catch it until after you've seen the credits roll. So, the easier way to find these paradox pokemon is to fly to "Area Zero" on the map head inside the gate and examine the teleport in the Centre of the room. Now select research lab no. 2 as your destination. Now you'll be sent to the inside of that lab immediately.
Pokemon Shiny Roaring Moon :
Best Roaring Moon Build :
Nature
Jolly (+Spe, -Sp. Atk)
EV Spread
252 Atk / 4 Sp. Def / 252 Spe
Final Stat Values
180 HP / 191 Atk / 91 Def / 122 Sp. Def / 188
Spe (282 with Choice Scarf)
Ability
Protosynthesis
Tera Type
Steel
Held Item
Choice Scarf
Moveset
・ Dragon Claw
・ Iron Head
・ Acrobatics
・ Crunch
Frequently Asked Questions (FAQs):
Q1. Where to find roaring moon ?
Ans. First you need to fly to Area Zero on the map, after reaching there you've to Select Research Lab No. 2 as your destination.
Q2. What is roaring moon raid build ?
Ans. Shadow Ball, Psyshock, Icy Wind, Moonblast.
Q3. How to get roaring moon pokemon ?
Ans. You can find it on the "area zero".
Q4. What is the Roaring Moon best moveset ?
Ans. The best roaring moon moveset is Dragon Dance, Acrobatics, Iron Hand, Crunch.
Conclusion :
Thank you so much for your precious time that you gave us. In this article we talked about a new pokemon called "Roaring Moon". Basically, This is a new dragon and dark type pokemon which was introduced in generation nine. This pokemon is one of those pokemon which was launched in pokemon scarlet and violet.
If you want to catch this Pokémon then you need to go Area Zero, because the main route of this Pokémon is from "Area Zero". So, I hope that you like this article and I hope that you get every single information regarding this topic which you were looking for.
We hope you have enjoyed our work, if you liked it Please help us reach more people like You. Share this article with your Friends using below buttons. Sharing is Caring 💗