Instagram Notes Feature: We all are known about Instagram very well. Instagram always introduces ton of features on their application. There are over 3 billion users on Instagram, and over 1 billion is active in every month. A user spend average 30 minutes on Instagram in a month.
For their customer satisfaction and to make insta more Interesting Instagram introduces its new feature Instagram note. In 2019 Instagram introduces insta reels option by banned on Tik Tok in India.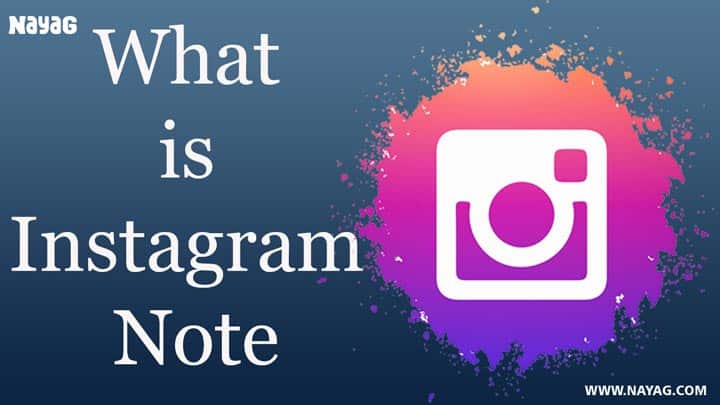 Feature Instagram Note Overview:
| | |
| --- | --- |
| Topic | What is Instagram Note |
| Company | Instagram |
| Provider | NAYAG Team |
| Source | Official |
| Status | Working |
What is Instagram Notes?
After the most success from the Instagram reels feature. Instagram introduce its new feature after testing. The Instagram notes feature is new which is launched by the Instagram on 28 sep 2022. In this new and amazing feature of Instagram you can write a brief note with limit of 60 characters only.
The new notes feature is appears in your direct messaging (DM) area or Instagram chat area for only a 24 hours. You can create or write a note also in your DM area or Insta chat area. This new feature is also like Instagram story feature i.e. this disappear after 24 hours.
You can read another Article Instagram Leave a Note Message. In this article you learn how to use Instagram Notes Feature.
How to use Instagram Notes
After the releasing of this new feature from the Instagram the mixed reactions are outcomes from the users of India. Instagram notes is released to the increase the user experience of peoples. The team of Instagram is doing a great work to improve and add some exciting features in Instagram, which is helpful for users.
Now there are many users who are not familiar with Instagram notes. For using of Instagram notes new feature you can follow these steps.
Open the app in your mobile or iPhone.
Go to the DM area or chat room.
The new feature Instagram notes is appear under the search bar.
Tap on your note to write a note to your followers or close friends.
Tap on the share button to post it.
If you want some good ideas and examples regarding the use of Instagram Note. Then, keep connected as we have got you covered. We have good suggestion & quotes to write on Insta Notes. You can search for them on our website.
Instagram Notes Review
After a launching of this new feature Instagram notes. Some peoples are in positive way or some are on negative side. The mixed offensive comments are shared on many social media sites. Many peoples said this new feature is very similar to tweet on twitter, on twitter you can write with a limit of 280 character or in Instagram you can write a note with a limit of only 60 characters.
In India, many peoples made memes on this new feature note. And compare it with vegetable market (sabzi mandi) or some peoples making a list of his grocery products on Instagram notes. But some peoples are also praising this new feature Instagram note to share his thought to his followers or close friends.
You can use Instagram Notes Funny Ideas with your friends.
Should you use Instagram Notes Feature:-
Until now, You have easily understand Instagram notes meaning. Since, it has its own use cases. Using new features definitely requires a little amount of learning. But it doesn't hurt to try new features. They can make our life easier or interesting at some point of time.
Taking Instagram Notes, absolutely there are some people who criticized it for being similar to twitter tweet. But still it has whole lot different.
Since, it is a new feature Insta may collect some feedback and can make some changes in future as well. Altogether future will tell whether it would able to make its place in people heart or will remain just a useless option. Still, We will recommend you to give it a shot for sure.
Frequently Asked Questions (FAQs):
Q1. What is Instagram notes meaning?
Ans. Instagram Introduce its new feature Instagram note in which you can write or share your thought with a limit of 60 characters. It is disappear after 24 hours.
Q2. Can we use a emojis to describe our feelings in Instagram notes.
Ans. Yes, you can use every type of words or emojis in your notes.
Q3. Can we should use this new feature in our desktop?
Ans. No, at that time this is only available for mobiles not for a desktops.
Conclusion:
Thank you for reading this article. We hope this article is helpful for you. In this article we telling about on the new feature Instagram note. Some people are with this new feature and some people are against this new feature. After the launching of this new feature many users making a memes on this. But many of them give love to this new amazing feature of Instagram.
If you are also happy with this new feature and want to use it. You can enjoy this new feature with your positive attitude. There are many peoples who is not familiar with this new feature you can share this article with your friends or family.
We hope you have enjoyed our work, if you liked it Please help us reach more people like You. Share this article with your Friends using below buttons. Sharing is Caring 💗