Hello neighbor 2 piano code : In Hello Neighbor 2, there are various type of riddles to solve and after solving those riddle you get another clue to pass that day or act. Although there are four acts in Hello Neighbor game but in those acts some are much interesting then other and one of those acts is day 4 or act 4.
In this act you will get to see very interesting puzzles and one those puzzle is piano puzzle. And in this article we are going to talk about piano puzzle that how can we solve it to get the trophy with some easy steps. So, I hope that you will like this article and I hope that you will get all minor to major information related to this topic.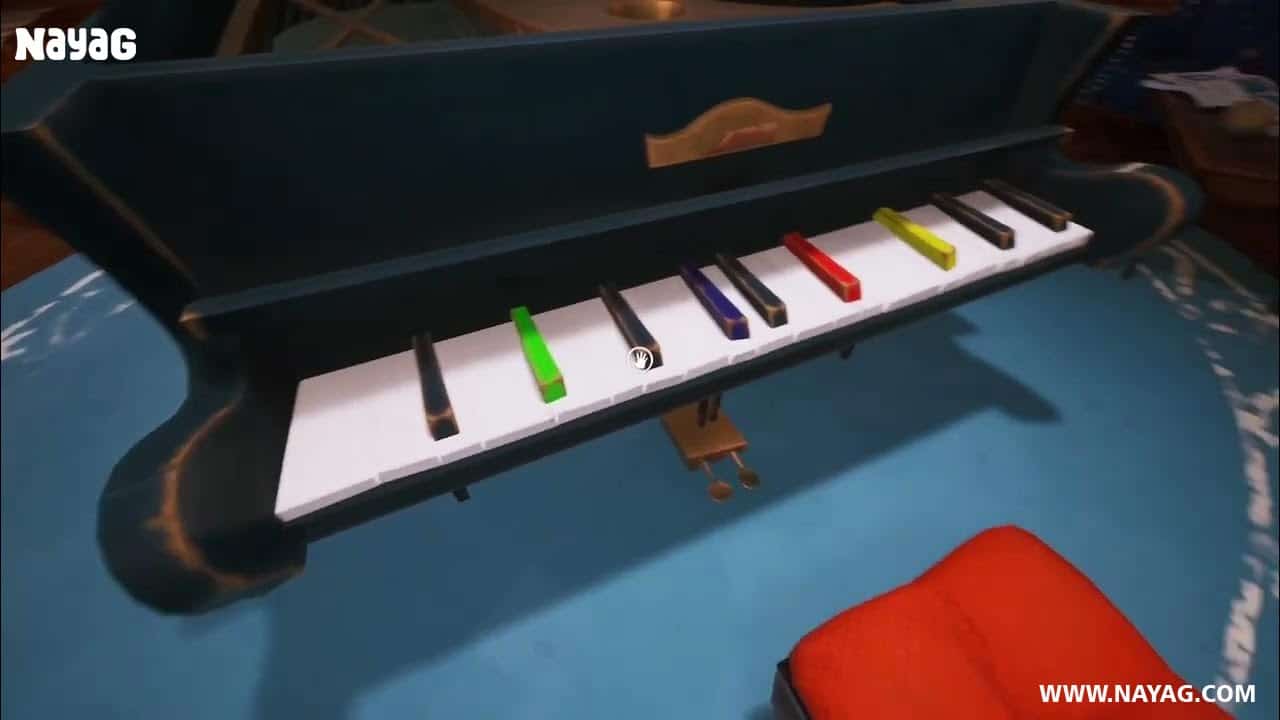 Topic Overview :
| | |
| --- | --- |
| Topic | Hello Neighbor 2 Piano Code |
| Application Name | Hello Neighbor 2 |
| Task | Solving piano puzzle |
| Category | Survival Horror Games |
| Source | Official |
| Provider | NAYAG Team |
| Status | Working |
What is Hello Neighbor 2 Piano Puzzle ?
Well, first of all let me tell you that "Hello Neighbor 2 act 4" or "Hello Neighbor 2 night 4" has no difference and contain the same meaning, the only difference in these two words is that, that some people call it as the "day or night" and some people use the word "act". Now, as you know that this game is full of puzzles and tasks which you have to clear to get next clue to find the kid that the neighbor have hidden.
So, in Hello Neighbor 2 act 4 you will get to see five puzzle which give you five trophy after solving those puzzle. These all puzzles you have to solve in in the Mayor's Mansion, which is guarded by his French bulldog, Skipper. The order of finding those trophy is (biggest trophy>Goblet trophy>Triangle trophy>Ring trophy>Star trophy). The piano puzzle gives you the triangle trophy and to solve the piano puzzle is not that easy.
How To Get Hello Neighbor 2 Piano Code ?
Here you are going to know the steps to solve this piano puzzle and to get the piano code. Below I've mentioned the steps to clear this riddle so follow these steps one by one and carefully.
The first thing you should know is that, the trophy is located in the music room's attic.
Now go under the main stair to know the code of the music room.
Then, go closer to the keynote paper which is glued on the left side of the wall of music room.
Now read those keynotes and play the piano's keynote according to there order, which is yellow>red> green>blue.
As soon as you play the notes, the door will open automatically.
Now get the record from the second floor.
The record you will get after breaking the glass by crowbar.
If you got the CD or record, then use this CD in that vintage record player that needs a record in the music room.
As soon as you play the recorder the ceiling of that room will open automatically, and you need to climb that ceiling .
After climbing it you will get your triangle trophy.
Frequently Asked Questions (FAQs) :
Q1. In which act this puzzle is ?
Ans. The piano puzzle is in act 4 to get the "Triangle Trophy".
Q2. What is the order to play piano notes ?
Ans. The order of the notes is 1-yellow, 2-red, 3-green, 4-blue.
Q3. How to solve piano puzzle ?
Ans. To solve this puzzle I've given you the steps which you can follow if you want.
Conclusion :
Thank you so much for your precious time that you gave us. In this article we talked about piano puzzle that how can we solve it to go ahead in the game and to get the third trophy in act 4. So, this puzzle is in act 4 oh Hello Neighbor. Most of the people says that this is the lil bit difficult to solve.
Basically, to solve this puzzle you need to understand the notes of the piano which you will get to see on the wall on the left side of recorder room. So, I hope that you like this article and I hope that you get every single information regarding this topic which you were looking for.
We hope you have enjoyed our work, if you liked it Please help us reach more people like You. Share this article with your Friends using below buttons. Sharing is Caring 💗