Fortnite Christmas Skins : Do you know that fortnite is going to launch its event once again? So, Fortnite is going to launch its event called "Winterfest" once again, and this event will be held around the same time as last year. I know that you all are very exited towards this event because it gives you the most amazing skins and many more things.
So, for that reason I'm here to tell you about this event that when it will be host and what type of skins you will get after this event. So, I hope that you will like this article and I hope that you will get every single information regarding "Fortnite Winterfest Skins".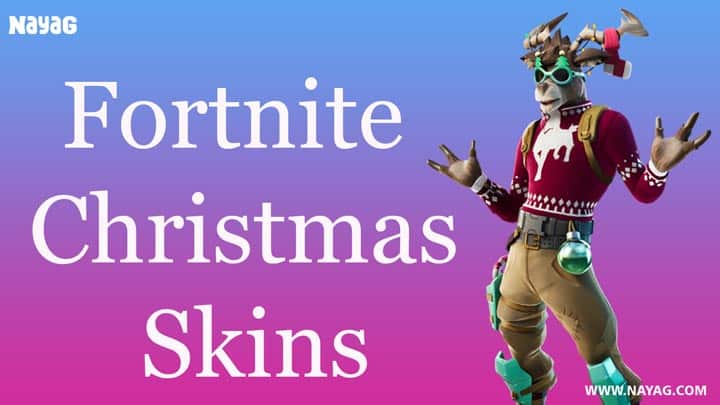 Topic Overview :
| | |
| --- | --- |
| Topic | Fortnite Christmas Skins |
| Category | Games |
| Name | Fortnite |
| Developed By | Epic Games |
| Published By | Epic Games |
| Source | Official |
| Provider | NAYAG Team |
| Status | Working |
Fortnite Christmas Skins 2023 :
Fortnite Christmas Skin 2023 : Epic Games who is the official developer of the game "Fortnite", never disappoint their users that is why they always try to give their best when it comes to an stuffs in the game. And as you know that The month of Christmas is almost here that is why once again they introduce a new stuff for their users.
So, basically fortnite announced its new upcoming "winterfest" which is a holiday event, will be held in month of December. Last year, (Winterfest 2021) started on December 16 and ran through January 6, 2022. So, this shows that there is chance that Winterfest event will again held in December month and we can assume once again that it'll begin around the same time.
This winterfest event held in month of "Christmas", that is why it gives the Christmas skins and some more things. Although fortnite release very various type of skins every occasion, but this event has separate from all other. It gives you the winter-themed outfits to wear in battle.
Best Fortnite Christmas Skins :
Fortnite Winterfest 2023 : Fortnite Winterfest is one of the major holiday event of fortnite that is focused on celebrating the holiday season. That is why, Fortnite going to release its winterfest skins once again. And here you will see 4 most amazing and stunning skin of winterfest event.
1. Lt. Evergreen Skin : This skins first appear in Chapter 2 Season 1. This is an Epic Outfit in Battle Royale that could be obtained from Winterfest Presents. The Re-Gifter Back Bling and Light Up Emote are bundled with this Outfit. if you want to grab it then don't worry this a free skin so you can catch it without spending a single v-bucks on it.
2. Snowbell Skin : Snowbell skin also a pretty skin of all time, we can't deny that green hat, green dress, and yellow tights, in this outfit she looks positively adorable. If you want to grab it then she'll cost you around 1,200 V-Bucks to purchase it. She has appeared in the item shop twice so if you find her in fortnite, grab it instantly.
3. Frozen Nog Ops Skin : This is one of the most beautiful character in fortnite, and in the upcoming skins which is- blue Christmas hat, Christmas sweater, and snowflake cosmetics and some other things make her more prettier than before and In addition to blending in with the wintery landscape of the Fortnite map, she can also hide in the snow.
4. Glimmer Skin : Glimmer appearance in fortnite is a shocking news for Disney fans. It makes us feel like Elsa. Glimmer Skin looks like it was borrowed straight from the Ice Queen. everything whether it is her crown, her attire, her hair, even her face, everything is stunning and she looks so adorable in this outfit.
Frequently Asked Questions (FAQs):
Q1. Can I grab this all skins free of cost ?
Ans. No! you have to pay some V-Bucks to grab it.
Q2. How much V-Bucks I've to pay to get this winterfest skins ?
Ans. There is not an single price for all the skin, there are different-different rate for different-different skins.
Q3. When Winterfest event will be held ?
Ans. It will be held in the month of December.
Conclusion :
Thank you so much for your precious time that you gave us. In this article we talked about the upcoming Winerfest event which will going to held in the month of winter or we can say in the month of Christmas. Fortnite every year held a event called Winterfest event and every year in this event they release winter and Christmas skins for player which player can use while fighting in the game.
This winterfest event gives you the all christmas skins fortnite like – Glimmer Skin, Frozen Nog Ops Skin, Lt. Evergreen Skin, Snowbell Skin, and some more. And if you're thinking that you've to pay for it then don't worry this skins are absolutely free. So, I hope that you like this article and I hope that you get all the important information regarding this topic.
We hope you have enjoyed our work, if you liked it Please help us reach more people like You. Share this article with your Friends using below buttons. Sharing is Caring 💗