Airtel to Vi (Vodafone Idea) Port : If as an Airtel customers, you are not satisfied with it's services. Then, you can move from Airtel to Vodafone Idea. MNP service allows you to transfer from one telecom company to another telecom company without changing for number.
So, (Vodafone Idea) gives you best exclusive recharge offers when you move in Vi. When, it comes to port from one company to another telecom. It requires UPC (Unique Porting code) code for porting.
To avail Vi offers and services, If you have decided to leave Airtel telecom to move Vi. So, you can get Vi MNP service without hassle.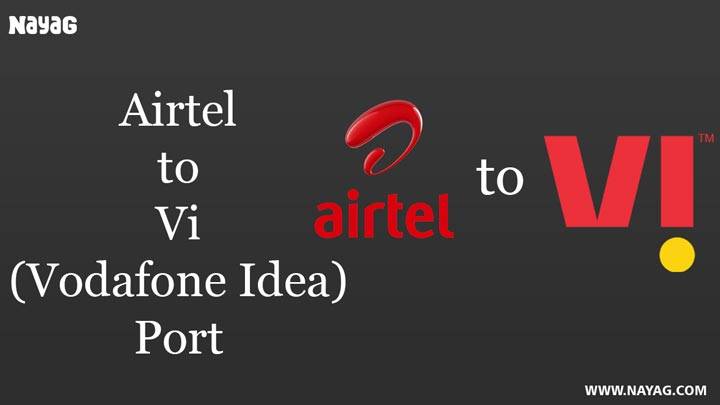 Airtel to Vi (Vodafone Idea) Port Overview :-
| | |
| --- | --- |
| Topic | Airtel to Vi (Vodafone Idea) Port |
| Company | Airtel, Vi |
| Source | Official |
| Provider | NAYAG Team |
| Status | Working |
Airtel to Vodafone Idea Port
When, you request for MNP service to port your Airtel number into Vi. If users are looking for quality coverage network and unlimited data then they can use (Vodafone Idea) by porting from other operators telecom.
Each telecom company offers MNP service to users. Who want to change telecom company as per your network and coverage without changing their existing mobile number. In addition, get your Airtel's UPC code and go ahead in process.
How to Port Airtel to Vodafone Idea
First of all, you have to follow eligibility criteria to port Airtel to (Vodafone Idea). You should have Aadhar card and 16+ age as per Aadhar card and alternative mobile number and an Email id ( optional).
Get a Unique Porting Code by sending a message on 1900 texting PORT <space> 10 digits mobile number. Even then, complete minimum 90 days with current network before porting out. In addition, provide the right UPC code to Vi agent and document such as Aadhar card to port your number.
Port Message For Airtel
First of all you have to get a port message of UPC code from Airtel to change your Airtel number in to Vi. Simply, open your message sender and create a new message texting "PORT" space and 10 digits Airtel number.
After a while, you will get a message through 1901 having a specific code. So, this code will help you to port your Airtel sim in Vi. Save this UPC code and Aadhar card and go to nearest Vi store.
Airtel to Vi Port
Follow these steps to Port your Airtel sim into (Vodafone Idea)
First of all you need some documents as per eligibility such as Aadhar card and alternative mobile number and an optional Email id.
Unique Portability code of Airtel's number
Find nearest Airtel store to MNP service
Where you have to provide UPC code and documents.
And they will provide you Vi sim of your Airtel number after MNP process.
So, this is the way to port your Airtel sim into (Vodafone Idea). If your coverage area is very weak in Airtel obviously you can move into Vi.
Airtel to Vi port Offer 2023
Here you will get true Unlimited 1.5 GB data/day and unlimited local/STD/roaming calls and 100sms/day while porting into Vi ( Vodafone Idea). In addition, You will get Vi plan of Rs 299 absolutely free while porting. When you will porting out Airtel into Vi, you can enjoy all services provided by Vi.
Vi (Vodafone Idea) offers you true unlimited data and night data absolutely free for its users. Vi also market is as "Not nominated as Unlimited but it works as Unlimited" i.e. "Sirf naam ka nhi kaam ka Unlimited".
How to Get Port Code in Airtel
To get porting code, you have to visit nearest Vi store and retailer. Otherwise, you can get UPC code on your phone simply texting port space and Airtel number and send it on 1900. After a while, you will get get on replied message 1901 from Airtel company.
You can also visit Vi official website and also apply for MNP. It requires basic information and UPC code to porting online.
Frequently Asked Questions (FAQs)
Q.1 How to Port Airtel to Vi?
Ans. Get Airtel's UPC code and visit Vi store
Q.2 What is Vi porting offer?
Ans. MNP offer 1.5GB unlimited data & call/day and unlimited data 12 to 6 am for free for 1 Month or Two Months (location specific).
Q.3 Can I port Airtel to Vi online?
Ans. Yes, You can apply for port online as well. We have described it above.
Q.4 What are the relevant document for MNP?
Ans. Aadhar card photocopy and Alternative mobile number is sufficient.
Conclusions :-
So, here we have described How to port Airtel to Vi (Vodafone Idea). In addition, MNP service provides by all telecom operators to move from one to another company without changing your number. We also informed you about benefits you get after porting. We hope that you have liked our article and also do share with your friends.
We hope you have enjoyed our work, if you liked it Please help us reach more people like You. Share this article with your Friends using below buttons. Sharing is Caring 💗