Activate Wolf Scent Fortnite : Recently Fortnite released a new feature called "wolf scent" which will help you to play your game very efficiently and it will increase your interest in this game. This features is going to be best of all time feature and it will improve your speed in this game.
Now here I came to give you every single information regarding this topic, means I will tell you that how this feature works and how can you use it. So, without wasting any time lets begin!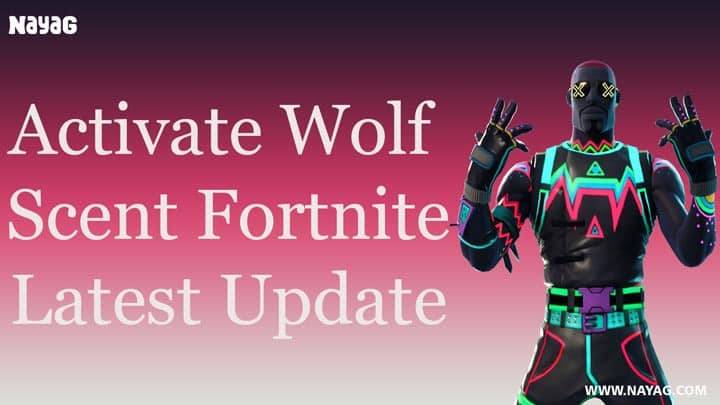 Topic Overview :
| | |
| --- | --- |
| Topic | How to Activate Wolf Scent Fortnite |
| Platform Name | Fortnite |
| Developer | Epic Games |
| Source | Official |
| Provider | NAYAG Team |
| Status | Working |
What is wolf scent in fortnite ?
Wolfscent fortnite : Basically, This features is interduce in Fortnite Halloween event in 2022. This Wolf scent feature allow player to see enemies nearby him or her. When this wolf scent activate it will inform you about your nearby enemies and if there is no enemies around then it will disappear slowly-slowly.
With the help of this feature you get the power of a wolf for a limited period and ability of a wolf to see enemies near you that is why this feature called wolf scent. You get daily two quests to complete, which come with 15,000 XP for each search in which first quests requires to use the wolf scent ability to hit an opponent.
This Feature has many interesting and useful thing like if you want to defeat your enemies or if you want don't want to be defeated by your enemy then this feature will help you, If you are person who wants to play game aggressively or rigorously then this will help you.
How to activate wolf scent fortnite ?
You can get this feature by acquiring Howler Claws, which is a part of fortnite Halloween event. To activate wolf scent fortnite feature in this game, you have to complete some task or have to follow some points which I've mentioned here. So follow these steps then you will be able to use this feature.
First you need to Step on one of the Reality Tree's Alteration Altars.
Then you have to Perform the Ritual Emote.
Now you will be granted the Howler Claws once the ritual is complete.
Remember one thing that if you want to use it then first you need to do it fully charged.
Now if your charging is done then press the L2 button on PlayStation or LT on Xbox(or the equivalent on other systems) to activate the Wolf scent ability.
Here your activation process is completed and now you can run this in your game and can enjoy with this amazing feature.
Fortnite hit an opponent while wolf scent is active :
To hit an opponent in fortnite you have to obtain the Howler Claws as your first task then stepping on any alteration alter on the island and executing the Ritual Emote will enable you to execute this well you can find this alter in the map around DJ Lyka at the Reality Tree or in other places. When you will get Howler Claws, wait for the wolf scent Ability to power up. A meter on the left side of your screen will show this.
If the charging of wolf scent has been done then press the button on the left side of the screen to activate it. Now you are able to hit your opponent but you must strike a foe while Wolf scent is on to complete this challenge. So, to track your enemies, wait for them to make their presence known before activating the Wolf scent Ability. And when you are close to your enemies, use the Howler Claws' strikes to slash them.
Fortnite wolf locations :
Optimized Outpost (west of The Joneses)
Shrouded Settlement (south of The Joneses)
Sunflower's Saplings (southeast of Sleepy Sound)
North of Rocky Reels
North of The Daily Bugle
Southeast of Logjam Lotus
East of Greasy Grove
Butter Bloom (southwest of Rocky Reels)
Sandblast Estates (south of Chonker's Speedway)
South of Rave Cave
Loot Lava Volcano Station (east of Coney Crossroads)
Northeast of Logjam Lotus
Southwest of Shifty Shafts
Ocean Outpost (east of Sleepy Sound)
Sunflower's Saplings (southeast of Sleepy Sound)
East of The Daily Bugle
Northwest of Tilted Towers
Northeast of Rocky Reels
Frequently Asked Questions (FAQs):
Q1. How to activate wolf scent ?
Ans. If you want to activate wolf scent feature then you have to follow some points which I already mentioned above in the article so check them and follow them one-by-one.
Q2. How to hit opponent with the help of wolf scent ?
Ans. In the article on the above side there is a paragraph in which I've described this thing very decently that how can you hit your opponent with the help of this feature so if you really want it then check that paragraph and read it and apply the
Q3. Is this new feature free to use ?
Ans. Yes! wolf scent is free to use feature and you can use it without spending a single penny.
Conclusion :
Thank you so much for your precious time that you gave us. So, in this article we find out about wolf scent which is a newest feature launch by fortnite game. This feature is a very fantastic way to improve your efficiency in the game and will improve. Basically, wolf scent feature will help you to find enemies nearby you as this feature tells you that there are any enemies or not.
To activate this feature there are some points which I've mentioned above and after following those points it will be active. But first you need to use Howler Claws to activate the Wolf scent Ability So, I hope you like this article and this article was helpful for you also I hope that you found everything regarding this topic which you were looking for.
We hope you have enjoyed our work, if you liked it Please help us reach more people like You. Share this article with your Friends using below buttons. Sharing is Caring 💗