VI App KBC Golden Week : Sony Entertainment Television's knowledge-based gameshow, 'Kaun Banega Crorepati – Season 14' is here again like every year. It is the longest-running Indian television show that is engaging and gratifying not only for the contestants on the hotseat but also viewers alike.
With the legendary Amitabh Bachchan as the host, his charming personality and humility bring an unwavering fanfare to this gameshow. It is the only show on Indian television that helps people materialize their dreams and aspirations with the 'power of knowledge'.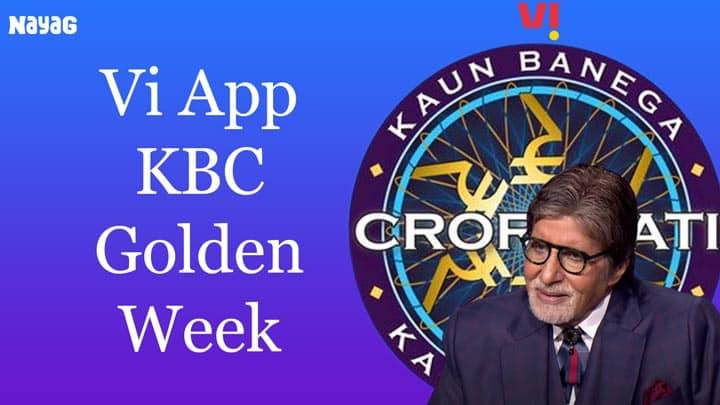 The heartfelt stories of the contestants and their hopes to achieve something in life make KBC more than just a show. Even if a participant couldn't reach a high price-money, meeting and interacting with Superstar Amitabh Bachchan seems like a great reward.
If you are searching for an opportunity to reach the KBC Hotseat and meet Big B, here is your golden chance! Vi brings you an offer to fulfil your KBC dreams with KBC Golden Week with Vi contest.
Vi App KBC Golden Week Registration:-
Here are all the details related to KBC Golden Week with Vi.
Contest:
Get a chance to be on the hotseat and meet Amitabh Bachchan with Vi. KBC Golden Week with Vi contest is a direct ticket to the hotseat exclusively for all Vi prepaid & postpaid users. 
KBC Golden Week Registration Duration:
3rd October 2022, 9 PM onwards to 7th October 2022, 9 PM
Participation Process:
Download the latest version of the Vi App from the Appstore or Google Play Store and Sign in/Sign-up to the Vi App. Click on KBC Golden Week Special (KBC-GWS) Registration from the App homepage.
Enter Basic details like Name, Age, Gender, etc. to Register for KBC-GWS. These details will be used for all communication as well as to shortlist contestants for auditions and the fastest finger first round. Only one user can register through one mobile number.
During the 5-day registration window, users have to answer 1 question each day on the Vi App. Each question with four options will be Live on the App between 9 PM to 8.59 PM the following day. The correct answer entails 1 point, however, there are no negative marks for incorrect answers.
Users will see a Thank you/Confirmation page with a message that if the user is shortlisted for the next stage, the KBC team will contact them through their registered mobile number.
The shortlisted participants will be contacted and invited for further auditions along with the required documents. Based on the personal interview and general knowledge score, the final shortlisted auditionees will be invited as the fastest-finger-first contestants on the KBC Golden Week show.
The lucky winners who reach the Fastest Fingers First round stay throughout the KBC Golden Week. Based on the Fastest Finger First round, contestants stand a chance to reach the hotseat & play KBC with Amitabh Bachchan.
Vi App KBC Question
Here are the Vi App KBC Questions List. You can just read these question and give them on Vi app. These question are from 3 October to 7 October respectively.
Ques 1: In which national park were cheetahs from Namibia released into the wild by PM Shri Narendra Modi?
A. Bandipur
B. Kuno
C. Kanha
D. Pench
Ans : B. Kuno
Ques 2.: Which of these terms refers to a rise in the price of objects?
A. Inflation
B. Deflation
C. Escalation
D. Recession
Ans : A. Inflation
Que 3. Which sportswoman is the subject of a biopic named 'Shabaash Mithu'?
A. Sakshi Malik
B. Mitahli Raj
C. Sania Mirza
D. Mary Kom
Ques 4: Which of these people succeeded Queen Elizabeth II as the monarch of the United Kingdom?
A. George V
B. William IV
C. Henry VIII
D. Charles III
Ans :
Ques 5: The logo of which of these shows the depiction of a fingerprint?
A. Aadhaar
B. Atma Nirbhar Bharat
C. Startup India
D. Make in India
Ques 6: The logo of which of these shows the depiction of a fingerprint?
A. Aadhaar
B. Atma Nirbhar Bharat
C. Startup India
D. Make in India
Tags: kbc vi app download, kbc golden week with vi app download, kbc vi golden week question, vi app kbc question, kbc golden week registration
We hope you have enjoyed our work, if you liked it Please help us reach more people like You. Share this article with your Friends using below buttons. Sharing is Caring 💗