Turn off Instagram Notes: Recently, Instagram released the Notes feature, allowing users to silently announce thoughts in a 60-character frame. However, Instagrammers worldwide felt baffled at this feature's importance to users. If you feel annoyed at it, we will assist you to get rid of it.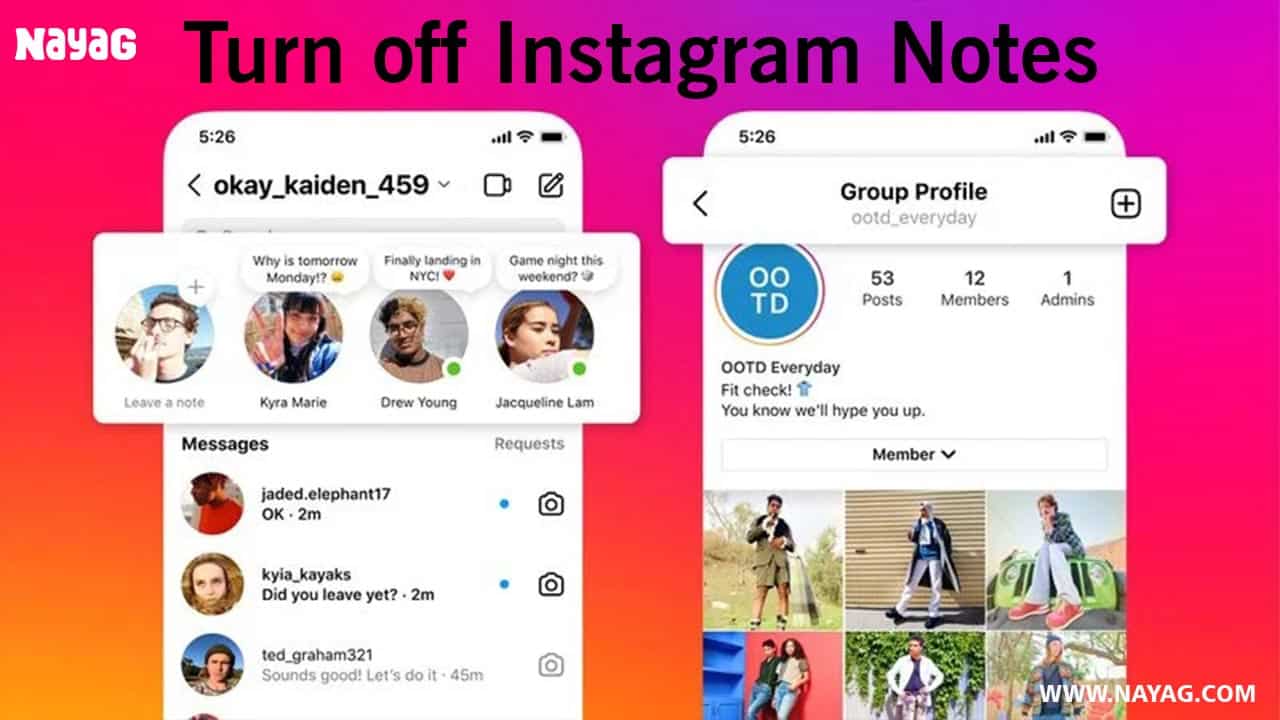 Notes stay at the top of the Inbox and only disappear 24 hours after being created. But it's too much, therefore you must be looking for practical solutions to disable Instagram's notes function.
It is clear that users are dissatisfied with the Notes function on their accounts. Many people are speculating whether it's possible to disable these Instagram notes.
Turn off Instagram Notes Overview
| | |
| --- | --- |
| Topic | Turn off Instagram Notes |
| Company | Instagram |
| Source | Official |
| Provider | NAYAG Team |
| Status | Working |
What is The Notes Feature on Instagram?
The notes feature on Instagram permits users to post messages that expire after 24 hours.
You may share it with either your closest friends or the individuals who follow you and whom you follow back.
Notes feature allows Instagram users to post messages of up to 60 characters.
Instagram notes appears at the top of the direct messaging area. Thus, you may see the notes of your friends in Direct Messages.
How to Turn Off Notes on Instagram on Mobile?
In the below section we described step by step to explain how to turn off notes in Instagram? :
Open the Instagram app (Android, iOS) and navigate to the DM section by swiping the screen towards the right.
On the next page, Long-press your desired note and tap the Mute Notes button to hide and mute all future notes from the selected Instagram account.
How to Remove Instagram Notes?
If you are searching how to remove notes from Instagram? Then Answer is No, you can not remove notes on Instagram. If you already updated the Instagram app to latest version and you got notes feature then you can not get rid of this. But you can mute this Instagram Notes feature of Instagram by using below steps.
Go to the Instagram profile of the user whose notes you want to mute.
Next, tap on the Following button and press the Mute option.
Finally, enable the mute toggle for Notes to hide all notes from the selected user on your account.
How to get rid of Instagram Notes?
If you want to remove notes feature then install the old version of Lite Version of Instagram app which don't have notes feature. This is the only way to get rid of notes feature if you got.
Another easy workaround to turn off the notes feature on your Instagram account is to use the Instagram Lite app. This lighter version of Instagram is designed to run on Android smartphones with less memory space. As a result, new features such as notes have not been rolled out to it. Follow these easy steps to use this app to your advantage:
1. Install the Instagram Lite app from Google Play Store and sign in with your account.
2. Switch to the DM section to view your messages without the notes feature.
We hope you have enjoyed our work, if you liked it Please help us reach more people like You. Share this article with your Friends using below buttons. Sharing is Caring 💗