Book Gas on WhatsApp | How to Book LPG Gas Online | Book my LPG Cylinder Online. indane gas login, indane gas online booking registration, my lpg, indane gas booking number, hp gas login, bharat gas, hp gas booking, indane gas online payment- Now you do not need to call for booking the gas cylinder used in your kitchen. Now this work can also be done through WhatsApp. Bharat Petroleum (BPCL) has digitized itself. Now you can book LPG in just a few seconds without any hassle through chat. We are telling you this very easy way…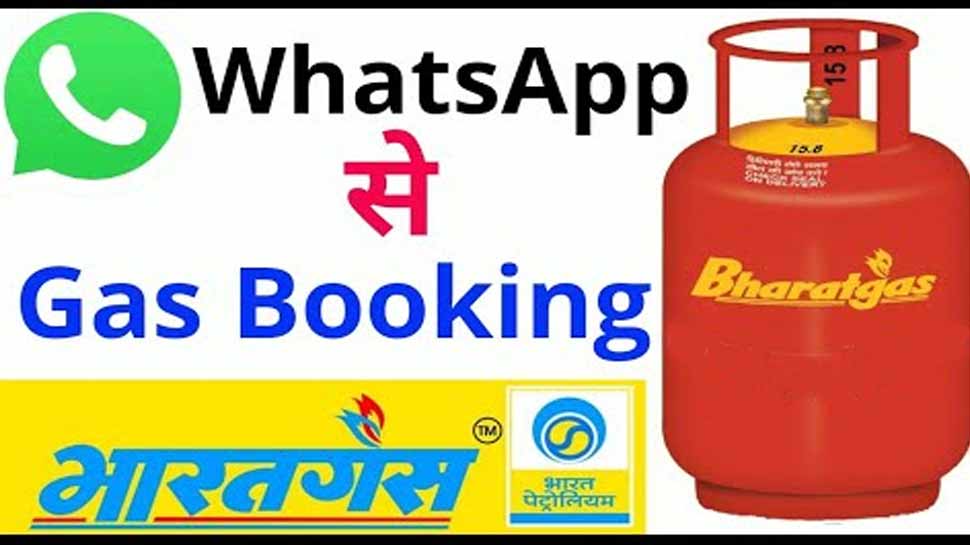 BPCL has made LPG booking system online in every way. Now you can book the gas cylinder (LPG Cylinder) through the social media platform WhatsApp while sitting at home. The facility to book gas cylinders on WhatsApp has been started across the country. The best thing is that with gas booking on WhatsApp, you can also make online payment.
Let us tell that Bharat Petroleum has more than 71 million gas consumers across the country. In the case of gas distribution, Bharat Petroleum is the second largest company after Indian Oil (BPCL).
Also Read- Paytm Gas Bill Offer -Get Rs 25 Cashback on Rs 250 Gas Bill Payment
How to book gas on WhatsApp
LP Gas Booking WhatsApp Number :1800-22-434
Bharat Petroleum has a business of distributing LPG in the name of Bharat Gas. The company has started WhatsApp service for booking gas cylinders to its customers. LPG consumers can book their gas cylinders (Gas Cylinder) on WhatsApp number 1800-22-434. Gas can be booked on this WhatsApp number only from the phone number that the number is registered with the gas agency. This service will make it even easier for people to book gas cylinders. As the trend of WhatsApp increases, everyone knows how to use it.
This is the process of booking
After booking the cylinder on WhatsApp, a message will be sent to the customer's phone number, in which the booking number will be entered. In this message, there will also be a link to make online payment of gas cylinder. On this link, customers can pay the cost of the cylinder from debit card, credit, UPI or other online payment platform (online payment).
Bharat Gas (Bharatgas) senior sales officer Anushi Gupta said that Bharat Gas has started an awareness campaign for its digital service. He said that the objective of this campaign is to create awareness among the people about the use of digital platforms, so that they can continue to get comfortable facilities from the comfort of their home. He told that today WhatsApp platform has emerged as a strong vehicle for all kinds of facilities.
How to Book LPG Gas Online: Book my LPG Cylinder Online
Booking an LPG cylinder can now be done from the comfort of your home at the click of a button. Indane Gas, HP Gas and Bharat Gas all have their own online LPG booking services, which enable customers to book an LPG cylinder refill without the hassle of calling or going to the gas dealership in person.
Advantage of the online gas booking is that consumers can choose to pay via net-banking or credit card.
Consumers who are at work and were unable to take delivery of their refill cylinders as they were not home to pay for the cylinders can now just pre-pay at the time of ordering the refill.
Once the cylinder is delivered, the consumer will receive an SMS or email notification.
This facility was introduced recently and has made booking a cylinder refill a more convenient process.
To book a cylinder online, just visit the website of your LPG provider (HP, Bharat Gas or Indane) and register yourself.
Once you have done so, you will see an option to book a refill online. Follow the instructions and make your payment online or cash on delivery.
Gas Booking Through IVRS:
Customers can book a cylinder through the gas company's IVRS (Interactive Voice Response System).
A consumer will simply have to call on the designated number for the particular region/state and follow the instructions to book a cylinder.
The customer has to provide his/her customer ID after calling from the registered phone number.
The order number and estimated delivery date will be communicated to the customer at the time of booking the cylinder, with the payment to be made on delivery.
Gas Booking Through SMS:
Customers can also choose to book their LPG refill cylinders through SMS.
The customer will have to first register his/her mobile number with the gas provider, after which a particular format is to be followed when sending the SMS.
The SMS would have to be sent to a particular number, which can be found on the specific gas company's website.
We hope you have enjoyed our work, if you liked it Please help us reach more people like You. Share this article with your Friends using below buttons. Sharing is Caring 💗