Dragon Titan Pokemon Scarlet and Violet : Titan Pokémon's are a new phenomenon in newly came "Pokémon scarlet and violet", it is very interesting and huge but catching them is too unpalatable and confusing to the players who have never encountered them before.
But don't worry because I'm here to tell you about its reality and In today's article we are going to talk about this Titan Pokémon that where can we find it and how So, I hope that will like this article and I hope that you will get all the information regarding "Dragon Titan Pokémon Scarlet and Violet"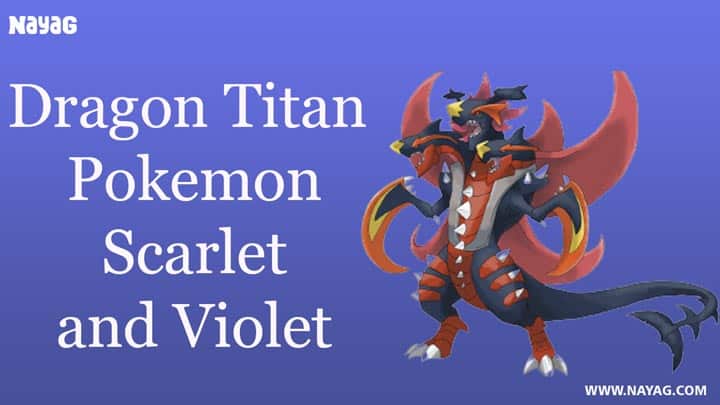 Dragon Titan Pokemon Scarlet and Violet Overview :
| | |
| --- | --- |
| Topic | Dragon Titan Pokemon Scarlet and Violet |
| Platform Name | Pokémon Go |
| Offered by | Nintendo |
| Category | Games |
| Source | Official |
| Provider | NAYAG Team |
| Status | Working |
How To Find The Dragon Titan Pokémon Violet ?
First of let me tell you lit bit about Titan Pokémon. So, basically Titan Pokémon is also known as False dragon titan Pokémon and this are the very similar to dragon titan Pokémon who have seen a lot of time in Pokémon game, here I'm talking about gimmicks. This are the very special, powerful and giant Pokémon who do an important purpose, and is majorly responsible for protect Herba mystica.
Well, to find Titan Pokémon is not that easy task but even then here I've mentioned some points that if you will try this then the chance of getting titan Pokémon will definitely increase.
First you need to defeat the other Pokémon's and that Pokémon's will give you riding them, the glide and surf abilities. The latter is mandatory to get to the encounter.
After that you'll have to make your way to Casseroya lake, located in the northeast of the map. But if you are facing any issue in it then you can fly to either Cascarrafa, Medali, Porto marinda, and head over. The next thing you have to do is head to the maked island on your map.
Now, if you've reached to the island then you'll get to see a false dragon Pokémon called Dondozo. This is a water-type Pokémon but you've to take this like any other titan's. After defeating it, you'll see the real Dragon titan, Tatsugiri.
If you want to know about titan order then here I've also mentioned the list of that so take a look on it.
Titan Pokémon order :
Stony Cliff Titan (Rock) – level 15-20
Open Sky Titan (Flying) – level 20-25
Lurking Steel Titan (Steel) – level 25-30
False Dragon Titan (Dragon) – level 40-45
Quaking Earth Titan (Ground) – level 50-55
Dragon Weakness Pokémon :
False dragon titan weakness/ Titan badge dragon weakness : We all know very well that every Pokémon has its strength and weaknesses and according to it we decide Pokémon's to fight in the matches. And to keep in mind I searched about Dragon Pokémon weaknesses and then I get to know about it. So, below I've mentioned the list of Dragon Pokémon weaknesses
| | |
| --- | --- |
| Effectivity | Type |
| ×4 | None |
| ×2 | Grass, Electricity |
| ×0.5 | Fire, Water, Steal, Ice |
| ×0.25 | Fire, Water |
Frequently Asked Questions (FAQs):
Q1. Where is the dragon titan ?
Ans. You can find them near "Casseroya lake".
Q2. How to find false dragon titan ?
Ans. To find false dragon titan there are some points which I've mentioned above in the article so read them and apply them.
Q3. What is the false dragon titan level ?
Ans. To get "Titan Pokémon" you need to clear at least Level 56.
Conclusion :
Thank you so much for your precious time that you gave us. In this article we talked about "Titan Pokémon" that how and where can be find it and we also talked about some more things regarding Titan Pokémon. Titan Pokémon's also known as false dragon Pokémon and this Pokémon are special category.
So, basically to find Titan Pokémon is lit bit difficult, you need to clear level 56 and which is not that easy you need to defeat many other Pokémon's. So, I hope you like it and I hope that you get every single information regarding this topic which you were looking for.
We hope you have enjoyed our work, if you liked it Please help us reach more people like You. Share this article with your Friends using below buttons. Sharing is Caring 💗